Review: Jefferson's Reserve Twin Oak Bourbon and Ocean Bourbon Voyage 14 Cask Strength
Review: Jefferson's Reserve Twin Oak Bourbon and Ocean Bourbon Voyage 14 Cask Strength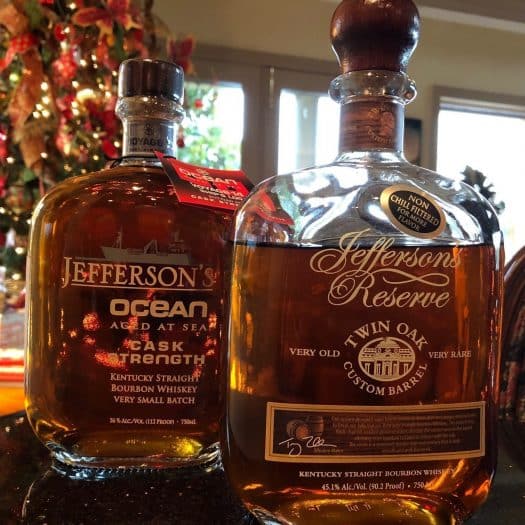 It's been awhile since we spent much time with Jefferson's, but today we've got a double shot of new releases from the boutique operation. Let's dig in.
Jefferson's Reserve Twin Oak Bourbon Custom Barrel – "Twin Oak" sounds mysterious, but the reality is this is a bit simpler whiskey than the name suggests. The result of a six-year project with the barrel-makers at Independent Stave Company, Twin Oak is the inaugural release of whiskey placed in Jefferson's CEO Trey Zoeller's own "Jefferson's barrel." Like Jack Daniel's Sinatra Select whiskeys, the secret sauce is the grooved staves used to craft the barrel, making for more surface area and greater wood-to-spirit contact. Barrels are then toasted and charred based on a specific recipe. The "twin" moniker comes into play because these special barrels are only used for four months of finishing. The whiskey starts as 10 year old bourbon, sourced from an unnamed Kentucky distillery.
The results are perfectly delightful for fans of bolder, wood-forward bourbons. The nose is heavy on the char, licorice, and clove notes, herbal and earthy. Bold cereal character hits first on the tongue, a fresh popcorn note that feels younger than 10 years and which comes across as traditional, almost old-timey. Secondary notes are mainly built around baking spice and a hint of butterscotch, notes of clove oil and a reprise of blackened barrel char hanging on for the finish. Overall, it's fine. 90.2 proof. B / $100 [BUY IT NOW FROM CASKERS]
Jefferson's Ocean Aged at Sea Bourbon Voyage 14 Cask Strength – In recent years, Jefferson's heavy-gimmick Ocean Aged whiskey has gone from being a unicorn to a rather widely-available spirit. The catch is that Jefferson's Ocean spends part of its aging time at sea, sloshing around on a container ship, which can greatly impact the influence of the barrel on the whiskey inside. This is the 14th release — or "voyage" — of the cask strength bourbon, its "ship's log" describing a journey of several months (roughly six) that took place over 2017's hurricane season and included a trip through the Panama Canal. The bourbon that goes into the batch carries no age statement, but it's reported to be between 6 and 8 years of age, sourced from a Kentucky distillery.
A bit warm on the nose, there's a strong popcorn component but also plenty of vanilla, caramel, and a hint of baking spice. There's more going on on the palate, including some orange peel, butterscotch, and gingerbread notes. With time in glass the sweeter elements become more pronounced, though a vein of toasty oak runs through it all. Nice stuff. 112 proof. A- / $83  [BUY IT NOW FROM CASKERS]