Review: Chivas Regal Mizunara
Review: Chivas Regal Mizunara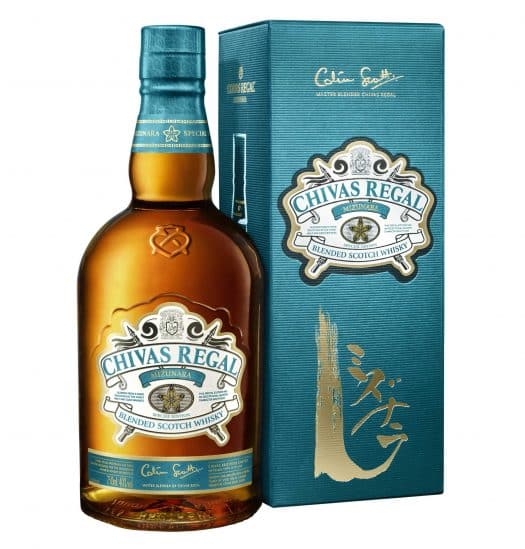 If you've spent any time in travel retail (or Asia) lately, you might have encountered the Chivas Regal bottle in the turquoise packaging: Chivas Regal Mizunara, "the world's first Scotch whisky to be partially finished in Japanese Mizunara oak casks." Now this special edition is coming to general release in the U.S.
There's a lot to read into that: partially finished being the key phrase. How much mizunara oak is used here, on what portion of the whisky, and for how long? Chivas doesn't say, but you can assume the answer to all three of those questions is not much. Still, let's commend the blend for stepping well outside expectations — indeed, into unknown territory.
And while we ponder all of that, let's give it a taste.
Mizunara has a reputation for imparting savory, umami notes to whisky, but here the whisky presents as immediately sweeter, hitting the nose with notes of cotton candy, raspberry jam, vanilla, and — at last — an underpinning of barrel char. The palate is nearly as sweet as the aroma would indicate, with lots of vanilla and marshmallow notes giving the whisky an almost dessert-like quality. Fortunately, more exotic notes creep into the mix as the whisky develops in the glass and on the tongue. Notes of black tea, tangerines, and spice give the palate a particular complexity, the finish running less sweet and more brooding, with a sizable element of barrel char, plum, and toffee — some of the more iconic characteristics of the mizunara wood finally showing their faces.
Altogether it's interesting and engaging, even though it could have gone much further with the mizunara element.
80 proof.
B+ / $45 / chivas.com [BUY IT NOW FROM THE WHISKY EXCHANGE]