Review: Hochstadter's Slow & Low Rock and Rye Canned Cocktail
Review: Hochstadter's Slow & Low Rock and Rye Canned Cocktail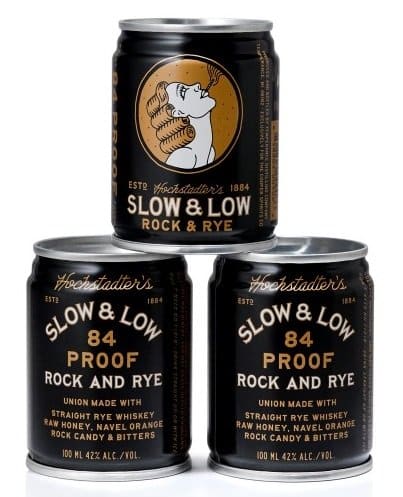 We already gave you the lowdown on Hochstadter's Slow & Low Rock & Rye way back in 2014, and we even told you back then that there was also an adorable canned version of this classic cocktail-cum-candy-fix. Since canned cocktails are all the rage now and it's been a hot minute since we last tasted this one, here's a refresher for 2020.
A lot of the canned cocktails on the market now are lower abv, geared toward guilt-free day drinking and the more health conscious imbiber. Not this one. At least from an alcohol standpoint, Slow & Low is maybe the closest thing to a true cocktail in a can out there. Which is probably why it only comes in a petit 100ml. At 84 proof, that's more than enough to get you on your way. This canned concoction is based on the classic Rock & Rye cocktails of yore with a base of straight rye whiskey and a healthy amount of added flavoring: honey, naval oranges, angostura-style bitters, and rock candy. Let's pop the top and see if it's everything we remember, shall we?
The can may look small, but when poured into a rocks glass, it's a full-sized cocktail (and then some). The aroma isn't overly sweet or boozy, mostly earthy honey notes that become all citrus rind and candied orange peel. The palate is less restrained, more saccharine (way, way more), and redolent with candied fruits that give it a sticky sweet mouthfeel. Slight oak and spice notes show up only toward the finish, making it difficult to see the whiskey in this whiskey cocktail. Just as in our review from 2014, the canned version of Slow & Low could easily be mistaken for Grand Marnier or some other orange liqueur, the candied citrus element is just that overbearing. A few rocks in the glass somehow make it taste even sweeter, but a healthy splash of seltzer or club soda actually makes it better, dulling the rock candy sweetness, giving the orange more of a fresh-squeezed citrus quality, and elevating the barrel notes in the whiskey.
84 proof.
B / $5 (per 100ml can) / drinkslowandlow.com [BUY IT NOW FROM CASKERS]