Herradura's Battle of the Tequileros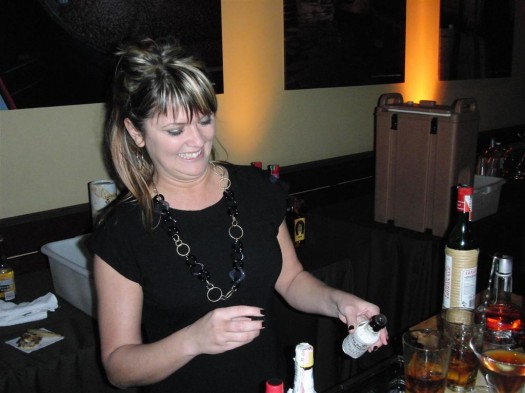 I recently had the great opportunity to attend Tequila Herradura's battle of eight Bay Area mixologists, each trying to outdo the other. Some photos of the event held at San Francisco's Tres Agaves — including a live "harvesting" of agave plants… oh, the carnage — follow.
My favorite drink of the evening — Tony Devencenzi's (of Bourbon & Branch) "Tequila Sunset" — didn't win, but many curious tequila concoctions were on hand for the adventurous.
The judged winning cocktail was from Marco Dionysos of Tres Agaves is called the "Malabarista":
Malabarista (Juggler) Cocktail
1 1/2 oz. Herradura Reposado
3/4 oz. fresh lemon juice
1/2 oz. Orchard Apricot liqueur
1/2 oz. Amaro Nonino
1/4 oz. Small Hands Orgeat
angostura bitters
1 dash Habanero tincture
fresh basil
egg whites
Muddle fresh basil in a mixing glass with lemon juice & apricot liqueur. Add remaining ingredients and shake with ice. Double strain into chilled cocktail glass. Garnish with angostura bitters sprayed through a horseshoe stencil.
The "crowd favorite" cocktail of the night was awarded to Chase Williamson of 21st Amendment and his "No Reposado."
No Reposado
2.5 oz Herradura Reposado
1 oz Sarsaparilla/agave nectar infusion
1 oz Fresh Tangerine Juice
1 dash Fee Brothers Orange Bitters
20 whole coffee beans
The coffee beans are whole, not ground. The agave/sarsaparilla syrup is made with dried, chopped sarsaparilla soaked in equal parts pure agave nectar and water, for 30 minutes. All ingredients are combined in a pint glass, add ice and shake vigorously, double strain to remove all broken coffee beans, and tangerine pulp. The garnish should float on top of the drink. Glassware- 7-9 oz Martini. Garnish- Coffee bean wrapped in a tangerine peel, connected with a toothpick.