Tasting Report: 2016 St. Emilion Bordeaux Wines
As they did last year, over a dozen winemakers from Bordeaux's St. Emilion region traveled to the U.S. to showcase their 2016 releases, many of which have just hit the market. (Surprisingly, a smattering of 2017s were also being poured.) We caught up with them during their San Francisco visit, tasting the new releases as well as, in most cases, something from their more recent archives dating back to 2009.
Curious how 2016 is measuring up in this merlot-heavy Right Bank region? Read on for tasting notes of all wines sampled.
Tasting Report: 2016 (and Older) Saint-Emilion Bordeaux Wines
2016 Château Bellefont-Belcier Saint-Emilion Grand Cru – modest, earthy and restrained / B
2017 Château Bellefont-Belcier Saint-Emilion Grand Cru – a bit chewy and astringent, lots of licorice / B
2016 Château Chauvin Saint-Emilion Grand Cru – a touch of barnyard here, graphite, dried herbs / B+
2011 Château Chauvin Saint-Emilion Grand Cru – a bit dusty, heavy hearth; dried raspberries; pungent / B+
2016 Clos des Jacobins Saint-Emilion Grand Cru – gritty, moderate earth and bramble; very tannic / B-
2010 Clos des Jacobins Saint-Emilion Grand Cru – quite austere, oxidizing and losing life quickly / B+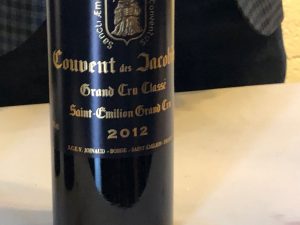 2016 Couvent des Jacobins Saint-Emilion Grand Cru – tight and tannic, licorice, some spice; needs lots of time to mature / B+
2012 Couvent des Jacobins Saint-Emilion Grand Cru – lush and rounded, silky; well-integrated terroir and tannin / A
2016 Château Dassault Saint-Emilion Grand Cru – pretty florals, lively fruit / A-
2010 Château Dassault Saint-Emilion Grand Cru – significant acid and lots of fruit; rich berries, some chocolate; Napa-like; a considerable improvement over prior year's tasting / A-
2016 Château Faurie de Souchard Saint-Emilion Grand Cru – heavy earth, licorice; tight today but hinting at fruit in the core / B+
2014 Château Faurie de Souchard Saint-Emilion Grand Cru – heavy acidity; earthy undercurrent; a bit volatile / B+
2016 Château de Pressac Saint-Emilion Grand Cru – lovely, folds fruit and wood and earth all together into a pretty mélange; blueberry notes – a favorite today / A
2017 Château de Pressac Saint-Emilion Grand Cru – very young; full of fruit – strawberry and spice; slightly earthy on the finish / A-
2016 Château Fonplegade Saint-Emilion Grand Cru – well balanced, but missing gravitas; pretty on the finish, though / B+
2015 Château Fonplegade Saint-Emilion Grand Cru – a bit gritty and earthy but fruit lies just under the chewy surface / A-
2016 Château Fonroque Saint-Emilion Grand Cru – lovely balance, a touch balsamic; nice grip, dark cocoa powder; a lively wine / A
2014 Château Fonroque Saint-Emilion Grand Cru – very fresh fruit with a touch of green apple; slightly candied / B+
2016 Château Grand Corbin Saint-Emilion Grand Cru – overblown fruit, quite juicy / B
2012 Château Grand Corbin Saint-Emilion Grand Cru – nice cocoa note; raspberries; nearing its peak with an earthy undercoat / A-
2016 Château Grand Pontet Saint-Emilion Grand Cru – vibrant and racy, spices galore; lots of fruit and a solid structure / A-
2009 Château Grand Pontet Saint-Emilion Grand Cru – moving into decline; austere and quite mild / B
2016 Château Jean Faure Saint-Emilion Grand Cru – quite tight, lightly astringent with balsamic notes / B
2014 Château Jean Faure Saint-Emilion Grand Cru – very bright, heavy on lively berry fruit; strawberries with vanilla / A-

2016 Château La Tour Figeac Saint-Emilion Grand Cru – very soft and silky, with milk chocolate and berry notes; great balance; a top pick / A
2015 Château La Tour Figeac Saint-Emilion Grand Cru – bolder earth profile, dark chocolate and licorice / B+
2016 Château Le Prieure Saint-Emilion Grand Cru – surprising balsamic punch; quite spicy / B
2014 Château Le Prieure Saint-Emilion Grand Cru – a nice edge of cocoa and fresh fruit, with a touch of earth; good balance / A-
2016 Château Ripeau Saint-Emilion Grand Cru – very lively fruit; spice, vanilla; drink this one young / A-
2016 Château Yon Figeac Saint-Emilion Grand Cru – chewy, big licorice and amaro notes / B
2017 Château Yon Figeac Saint-Emilion Grand Cru – flabby and underdeveloped so far; try again in a year / B-