Holiday Gift Idea: Man Crates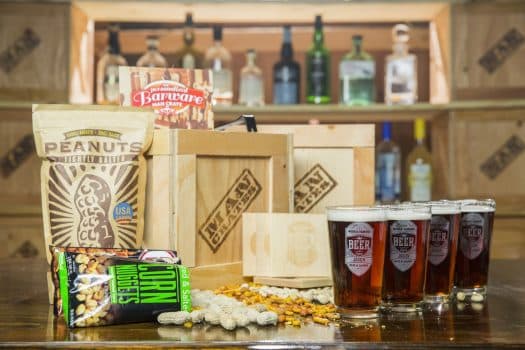 There's a good chance that there's a man on your shopping list this year, and if that's the case, well consider the one thing that every man loves: crates.
Man Crates are full of male-themed goodness, and they come in an honest to god crate that you have to open with an (included) crowbar. The crates are glued instead of nailed shut, so this can be quite an ordeal. From my experience with a duo of Man Crates, it's a job done best outside, as splinters tend to fly everywhere. Which is, of course, a lot of the fun.
Man Crates offers plenty of gift boxes in the vein of grilling and beef jerky eating, but there's also lots of booze-oriented options in the mix. The Personalized Barware Crate (pictured) gives you four pint glasses emblazoned with your bro's name — plus lots of nut-heavy bar snacks, an opener, and more. Or you can go a bit more "home for the holidays" with the Cozy Winter Cocktail Crate, which includes Collins Hot Buttered Rum mix, mulling spices, and personalized Irish whiskey mugs (among other goodies).
Crates aren't cheap — both of these are $100 — but the personalized touch really does make them worthwhile. For men, I mean.
About Post Author