The Best Peach Liqueur Roundup – Mathilde, Rothman & Winter, Merlet, and Pallini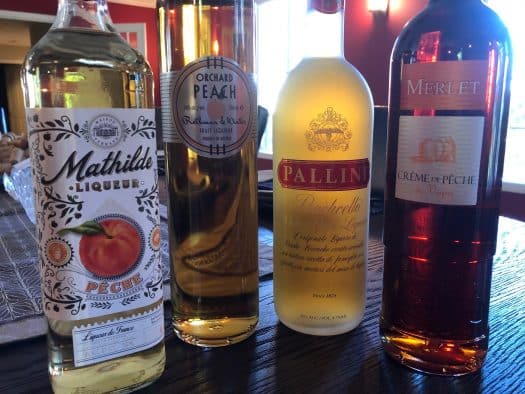 Like all fruit liqueurs, peach liqueur is a tricky thing. Done right, a splash can liven up a cocktail with a burst of authentic fruit flavor. Done wrong, it can come across as cloying and saccharine, all but ruining the beverage.
Peach liqueur (which is not the same thing as peach schnapps or peach brandy) is typically made by fermenting fruit and distilling it into an eau de vie (an unaged brandy), then flavoring it with the juice of the fruit and, typically, some added sugar to sweeten it up. Peach liqueur can also be made by simply infusing alcohol with peaches, or redistilling it with peaches, similar to the way gin is made.
The spirit can be used to make a Bellini when peach puree isn't available, and it mixes well with bourbon to produce any number of riffs on the mint julep, whiskey sour, or other American classics. Peach liqueur is also a key ingredient in Fish House Punch — no matter which recipe you follow.
For a simpler approach, it can be enjoyed straight, with soda, or — the French style — added to wine or Champagne in the style of a Kir or Kir Royale.
But… which peach liqueur should you turn to for your cocktailing needs? I tasted four leading brands side by side to suss out the best. I nosed and tasted them all three different ways: neat at full proof, watered down with 5 parts water to 1 part liqueur (which is said to bring out the aromas of any fruit liqueur), and in an Old Fashioned cocktail made with the addition of 1/2 oz. of peach liqueur.
Here they are, in rank order.
Maison Ferrand Mathilde Peche Liqueur – France. From the Ferrand Cognac (and other spirits) empire, this is made with small, white, vine peaches — making for a very pale liqueur that is surprisingly floral at times. Otherwise, it's nothing but authentic peach aromas on the nose, coming across as almost earthy at times. The palate sees an initial rush of sweetness, then a long and lingering note of fresh peaches and some sugar syrup notes. A slight caramel kick hits on the finish. The liqueur strikes an excellent balance between authentic fruit and straightforward sweetness — and it's also the least expensive liqueur in this lineup. 36 proof. A / $21
Rothman & Winter Orchard Peach – Austria. Slightly lighter in hue than Merlet (see below), this expression is made from peaches grown in the Oststeiermark region, including Roter Ellerstadter, Weinberg, and Haven varieties. Fresh peach dominates the nose, with some caramel aromas mixed in. That burnt sugar note is rather heavier on the palate, giving it a fairly candied note. Peaches and caramel sauce — and a touch of chocolate — inform the bold and slightly woodsy finish. 48 proof. A- / $25 [BUY IT NOW FROM DRIZLY]
Merlet Creme de Peche de Vigne – France. Made from peaches grown alongside Merlet's Cognac vineyards. Quite dark in color, it's very much like a brandy. Considerably heavier on the nose than all other comers, it has a vaguely wine-like character and aromas that run closer to nectarines than peaches. Lots of well-cooked caramel notes give the palate a significant density and gives the finish more of a candylike dessert quality, with a sharp conclusion that surprises by evoking red berries. This one shined a bit brighter in the Old Fashioned than on its own. 36 proof. B+ / $25
Pallini Peachcello White Peach Liqueur – Italy. A peachy spin on limoncello, Italy's famous digestif; it's a well-moderated orange in hue. Surprisingly muted on the nose, it's the mildest of the group both in aroma and palate, with more of an apricot and vanilla note up front that leads to a somewhat chemical aftertaste. Fairly boozy in comparison, with notes of raw alcohol evident — and a quite indistinct peach character. 52 proof. B- / $25 [BUY IT NOW FROM DRIZLY]
About Post Author