Review: The Single Malts of Scotland Caol Ila 10, Glen Elgin 13, Ardmore 21, and Glenrothes 30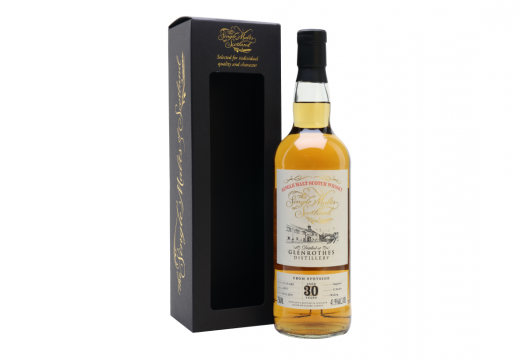 The independent bottling operation The Single Malts of Scotland may not have the most creative name, but it's certainly a descriptive one. This operation has been up and running since 2005 but its releases have only been available in Europe — until now, thanks to importers ImpEx.
Its first U.S. run includes 10 individual casks of single malts, all limited editions, bottled at cask strength, and available in quantities as low as 92(!) bottles in total. We received 4 of the 10 for review, each of which is digested below.
The Single Malts of Scotland Caol Ila 10 Years Old – Distilled in 2009 and aged in a hogshead, yielding 298 bottles. Dramatically peaty on the nose, this is classic Caol Ila, with a distinctly meaty/beefy/barbecue edge to the nose. Quite savory on the palate, those meaty elements segue nicely into a complex web of modest brine, overripe banana, tart apple, and brown butter. A spicy breeze blows in from there, giving the finish various notes of caramel, nutmeg, and red pepper. This bottling doesn't reinvent the wheel for Caol Ila, but fans of the brand will find this a solid exemplar of the style at cask strength. 116.6 proof. A- / $120
The Single Malts of Scotland Glen Elgin 13 Years Old – Distilled in 2006 and aged for over 13 years in a single ex-bourbon barrel, yielding 156 bottles. A beautiful and classic bourbon-barreled Speyside nose presents itself first, sunny and full of fruit, with a robust and sweet cereal note right behind. The palate is a bit mild, in keeping with the very pale color of the spirit, showing much of the expected character: nougat, breakfast cereal, a squeeze of lemon, and a finish that folds some spice into its cask-strength heat. 108.2 proof. A- / $NA
The Single Malts of Scotland Ardmore 21 Years Old – Distilled in 1998 and aged in a hogshead, 247 bottles produced. On the nose: Toasty with lots of oak, then rather smoky, to the point where I thought I poured a fully peated whisky. Otherwise it's quite earthy, with notes of graphite, cloves, and some brown sugar. On the palate, the whisky presents in much the same way: Smoky, a bit gritty, with a significant sweetness that ventures onto the tongue after a while. Ashy on the finish. 100.4 proof. B / $166
The Single Malts of Scotland The Glenrothes 30 Years Old – Distilled in 1989, then on to three decades in a single hogshead, with a mere 92 bottles produced. Austere on the nose, with notes of saddle leather, some petrol, and lots of spice, it comes across as weighty, though a maple note on the nose adds a curious, semi-sweet complexity. Exotic on the palate, it melds all of the above with incense, saffron, and golden raisins, leading to a sultry, vaguely salty finish. Huge bargain here on a 30 year old — if you can find one of the bottles! 83.8 proof. A / $280