Recipe: Manhattan Transfer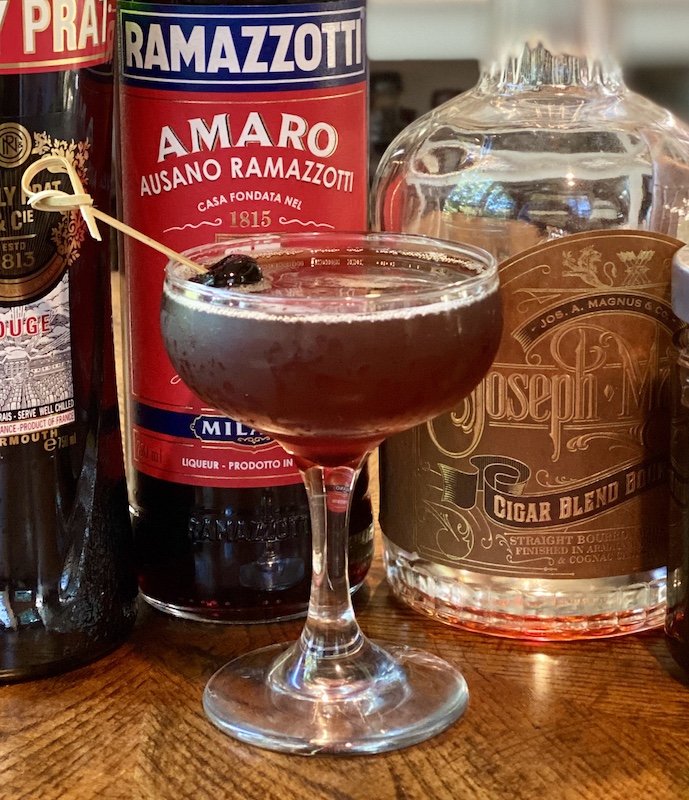 If you happen to be a whiskey drinker, like me, you probably love a good Manhattan. But as a whiskey-lover, I have a hard time sticking to just one brand or type of whiskey, and that translates to my Manhattans, too. I'm always looking for new and different variations. The Manhattan Transfer is my latest discovery.
The recipe I found was adapted from one created by Phil Ward at Mayahuel in New York, and I tweaked it a little myself. I cut the proportions of sweet vermouth, a traditional Manhattan component, in favor of a larger amount of Ramazzotti, an incredible amaro with loads of dark baking spices that perfectly complement a good whiskey (the proportions of which I also tend to increase). The original recipe calls for rye, but I personally think a high-rye bourbon works well, too, and make sure it's over 100 proof to stand up to the sweetness of the amaro and vermouth. Probably my favorite iteration uses Joseph Magnus Cigar Blend, which I'm sure sounds sacrilegious to most whiskey purists. Not all cocktails have to be made with bottom shelf mixing bourbon, people, although that would work fine in this one, too. Finally, a dash of good orange bitters (I use Regans') helps to balance all those dark, sweet spices with a bit of bright citrus. Enjoy!
Manhattan Transfer
1½ oz. whiskey (bourbon or rye, preferably 100 proof)
½ oz. sweet vermouth
1 oz. Ramazzotti amaro
1 dash orange bitters
Stir all ingredients with ice and strain into a cocktail glass. Garnish with a good cocktail cherry.
About Post Author