Review: Larceny Barrel Proof Bourbon Batch A120 (January 2020)
Review: Larceny Barrel Proof Bourbon Batch A120 (January 2020)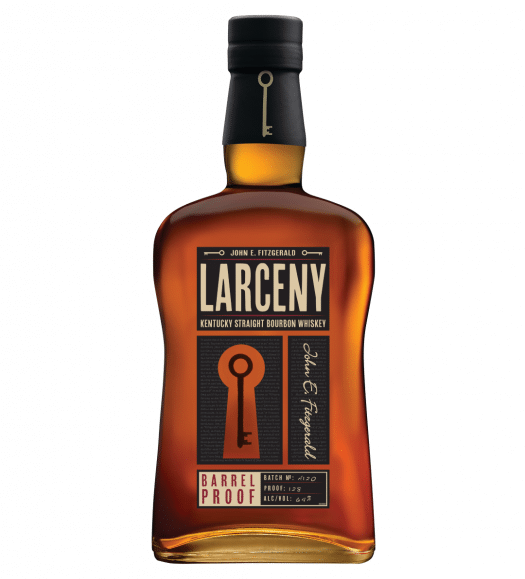 When Heaven Hill's wheated bourbon Larceny was originally released in 2012, I had a mixed opinion about it. I initially found the whiskey overly wooded and unbalanced, though plenty of fruit helped it showcase its charms.
Since then, I've retasted Larceny on many occasions and found it more mellow and well-rounded than I initially declared, though there's still something about it that keeps me from embracing it with open arms.
Enter Larceny Barrel Proof, the (inevitable) cask strength version of the whiskey. By way of details, Heaven Hill says this is "a mingling of 6 to 8 year old bourbon" that is uncut and non-chill-filtered. Proof will vary from batch to batch, which is noted on the label the same way Elijah Craig's regular batch releases are. Batch A120, referenced here, means its the first release of the year, arriving in January 2020.
In tasting Larceny Barrel Proof, I have to say it was a real revelation in comparison to the standard bottling. The nose is a showcase of sweetness — rich vanilla, mocha, and salted caramel, with a touch of barrel char whipped in. As some of the alcohol vapor in the glass blows off, more of a dark chocolate note comes through. The palate shows a quick hit of baking spice, but this rapidly subsides as sweeter notes come forth: butterscotch, malt balls, and some light cereal notes. It's very soft and surprisingly clean, even without a drop of water. I never would have pegged this at more than 60% abv. The finish softens further, with notes of Butterfinger candy and molasses lingering.
It's a true delight on its own, but given that a bottle will only set you back 50 bucks, even more delightful in the context of the market.
123.2 proof.
A / $50 [BUY IT NOW FROM FROOTBAT] [BUY IT NOW FROM RESERVEBAR]