Who doesn't love a good list? Who doesn't love rum? Let's put these two loves together by kicking off our inaugural look back at the 10 best rums we reviewed during the previous calendar year. 2019 was a huge year for rum, with numerous excellent bottlings hitting the market from all over the Caribbean (and a few more unexpected locales). Picking and ranking just 10 favorites wasn't easy, but we've done our best to give you the lowdown on the very best of the best from our last year of coverage. As always, prices have been updated to reflect the most recent market prices for each product.
1. Holmes Cay Single Cask Rum Barbados 2005 – Independently-bottled rum is a rarity, but this bottling of 14 year old rum from Barbados' Foursquare Distillery is proof that Holmes Cay is on to something. Boozy but full of flavor, this is a powerful exploration of spice, chocolaty mocha, and savory barrel char that demands a spot on any rum fan's top shelf. 128.6 proof. $130 [BUY IT NOW FROM CASKERS]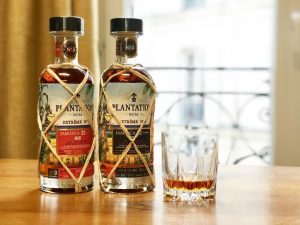 2. Plantation Jamaica Extreme No 3 ITP 1996 22 Years Old – The first of two ultra-rare releases from Plantation's Long Pond Distillery in Jamaica, this is an incredibly intense and aromatic cask strength rum heavy on notes of burnt toffee, banana, spice, and roasted nuts. Pour on the water to bring out a coffee/cocoa conclusion that's reminiscent of a whiskey. 109.6 proof. $235
3. Denizen Dark Vatted Rum – Rest assured not every rum on this list tops the $100 mark. Denizen's new vatting of rums from Guyana and Martinique is a showcase of well-aged rum, savory and spicy notes showing themselves in perfect balance – and fully built for tiki. At all of 30 bucks per bottle, you can freely stock up for summer. 100 proof. $30 
4. Appleton Estate Rum 21 Years Old – Not a new release but one which first crossed our desk in 2019, Appleton 21 is the brand's top-end bottling that represents the very best of Jamaica. If you're not into funky hogo notes, it's one to seek out, full instead of notes of baking spice, vanilla, and everything else on the dessert aisle. 86 proof. $135 [BUY IT NOW FROM CASKERS] [BUY IT NOW FROM THE BOTTLE CLUB]
5. Rhum J.M 110 Proof White Rum – Overproof rum is an essential in any home bar, but not all overproof rums are the same. This new release from Martinique's Rhum J.M. is an overproof rhum agricole, which is hardly commonplace. The punchiness of Agricole is evident throughout via a strong vein of fruit, but despite the heavy alcohol level, it all hits the palate as surprisingly time. 110 proof. $37 (1 liter)
6. Bumbu Rum XO – Barbados-based Bumbu has stretched from its roots as a spiced rum maker with Bumbu XO, an 18 year old rum that forgoes the added spices and lets its finishing in a sherry cask do more of the talking. Heavy with notes of coffee, roasted nuts, and citrus, it's a fruity and sweet rum with significant complexity. As a bonus: It comes at an amazing price for a rum of this age. 80 proof. $40 [BUY IT NOW FROM CASKERS] [BUY IT NOW FROM TOTAL WINE]
7. Mount Gay Master Blender Selection – Pot Still Rum – Mount Gay's 2019 annual special edition isn't just a pot still rum, it's one aged for a full 10 years. Bold and funky with hogo, its intensity soon fades into fruit and spice notes, making for a rich and well-rounded experience that reminds me of apple brandy. 96 proof. $230
8. Plantation Jamaica Extreme No 3 HJC 1996 22 Years Old – The second release from Plantation's Long Pond in Jamaica, HJC is a bit smoky and herbal, with a somewhat more traditional fruit-centric palate than the ITP bottling mentioned above. Still highly worthwhile (and very different)… if you can find it. 112.4 proof. $233
9. Popi's Finest Rum – Rum from Maryland? Popi's Finest shows that American rum can be just as delightful as more southern stuff, and it strongly makes the case for craft rum production on our shores. This earthy, herbal creation goes from savory to sweet over a long, hot ride – and feels well-designed for cocktailing. 100 proof. $60
10. Ten To One Caribbean Dark Rum – Ten To One is a brand launched by a former Starbucks exec, and the rums are all blends of various islands' production (no, not ten of them). The dark rum is a blend of Dominican and Jamaican rum, heavy with overripe fruit, spice, and big banana notes. 90 proof. $45 [BUY IT NOW FROM CASKERS]
Thanks for reading! Get the best of Drinkhacker in your inbox each week by subscribing to our newsletter!