Visiting Chimney Rock and Black Stallion Wineries in Napa, California, 2020
Along Napa's Silverado Trail you'll find a pair of wineries which are pushing their offerings, especially cabernet sauvignon, toward the higher end of the category. We spent a day visiting both Chimney Rock and Black Stallion, both of which are worthwhile to visit.
Chimney Rock was founded in 1980 and its architecture is unique for the area — built in the Cape Dutch style of South Africa, a country whose heritage continues to strongly influence the winery. The focus here is clearly on cabernet, though a wide range of grape varietals are grown here. The tasting room pours its highest-end wines for guests, including vintages (in our tasting) dating back to 2011. Thoughts on all wines tasted follow.
2018 Chimney Rock Rose of Cabernet Franc – Surprisingly bold, with blackberry notes and some mulling spices in the mix. A hearty rose worth a look. A- / $NA
2016 Chimney Rock Elevage Blanc – A blend of 79% sauvignon blanc and 21% sauvignon gris, this is a boldly creamy wine with notes of gooseberry and coconut. A bit of baking spice on the back end. I'd have never pegged this as sauvignon blanc had I not been told. A- / $50
2013 Chimney Rock Elevage – A blend of 53% merlot, 33% cabernet sauvignon, 9% petit verdot, and 5% cabernet franc. Soft and silky, the fruit is restrained here, letting notes of graphite and more of a charred, black fruit character come through. B+ / $125
2011 Chimney Rock Cabernet Sauvignon – 80% cab, 20% merlot. Bright with cassis and chocolate, this is a classic, and quite tannic, expression of cabernet for the area. Edged with chocolate, it's straightforward but quite enjoyable today. B+ / $128
2013 Chimney Rock Ganymede Cabernet Sauvignon – 100% cabernet from the Ganymede estate vineyard. Surprisingly soft and heavy with vanilla, this brightly fruity wine features ripe berries and an edge of tobacco and tea leaf. Elegant. B+ / $171
2013 Chimney Rock Tomahawk Cabernet Sauvignon – 100% cabernet from the Tomahawk estate vineyard. Notes of blueberry, cherry, and cocoa powder give this wine an immediate level of intrigue, though an edge of graphite shows itself as well. Tannins are bigger here than in Ganymede, but they work well to balance the silky chocolate notes on the finish. A clear favorite. A / $171
Black Stallion only opened in 2005, but its expansive, well-located winery has become a major attraction in Napa — especially if you're into the horse theme.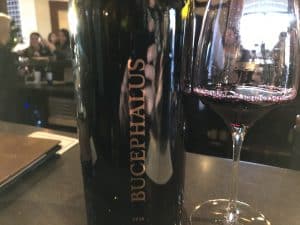 2016 Black Stallion Barrel Reserve Pinot Noir – Bold and full-bodied, surprisingly sweet. Notes of tea leaf are heavy throughout, and a bit jarring on the finish. B / $65
2016 Black Stallion Barrel Reserve Cabernet Sauvignon – Bit with tea leaf, currants, and a heavy tannin bill, the wine is a big brambly and surprisingly doughy at times. Strawberry on the finish feels a bit out of place. B / $98
2016 Black Stallion Transcendent – A 100% cabernet bottling, this wine is bolder with notes of tobacco and blackberry. Unabashedly fruit-forward, the tannins build toward the lengthy finish. B+ / $150
2016 Black Stallion Bucephalus – A blend of 61% cabernet sauvignon, 30% syrah, 6% malbec, and 3% petit verdot, named for Alexander the Great's horse. More aggressive than any of the above, notes of licorice and tannin, blackberries and cassis, all mingle delightfully into a rounded and intense whole. Lightly earthy and well-structured. A- / $150
2013 Black Stallion Barrel Reserve Cabernet Sauvignon – Poured as a library wine from decanter, this is a soft wine with notes of strawberry, blueberry, and tea leaf. Hint of saline on the finish. B+ / $NA