Review: Stoll & Wolfe Rosen White Rye Whiskey
Review: Stoll & Wolfe Rosen White Rye Whiskey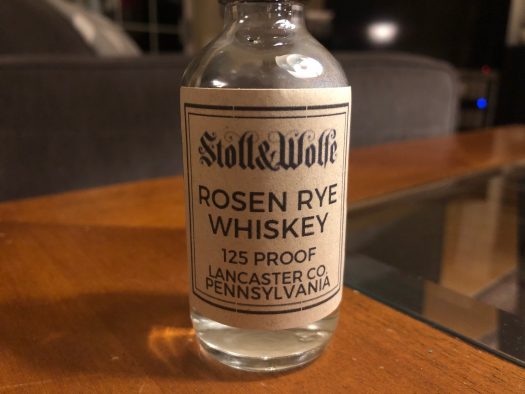 Lancaster, Pennsylvania is best known as the heart of Amish country, but it's also the home of Stoll & Wolfe, a rising craft whiskey producer making spirits out of Rosen rye, a heritage varietal that's being revived. Dick Stoll was the last distiller at Schaefferstown, Pennsylvania-based Michter's Distillery — the original location before it abruptly shut down in 1990. (The Michter's brand was sold to its current owners, otherwise there's no real connection to the older distillery's spirits.) Thirty years later, Stoll has a new operation, Stoll & Wolfe.
The Rosen rye is being revived by a non-profit, the Delaware Valley Fields Foundation, and after four years of efforts, enough has finally been grown to allow for a mashing and distillation. Right now, Rosen rye exists only as a white dog, but presumably aged versions will be forthcoming.
Here's a quick peek at Rosen Rye, unaged but at ready-to-go-to-the-barrel strength. On the nose, well, it's definitely white dog, pungent and hot with a clear cereal character — but also surprisingly nutty, with notes of dried flowers and the faintest hint of dill. The palate drinks like no other white dog I've encountered (which is many), a supple and easygoing experience that's lightly sweet and a touch herbal (think tea leaves), with a squeeze of lemon on the back end. The finish is sharp and short, but clean.
As it stands, it's fun stuff, but the real test will be after this goes into barrel for a few years. Could Stoll & Wolfe have found the secret to an amazing rye? Stay tuned.
125 proof.
A- / not available for purchase / stollandwolfe.com / delvalfieldsfoundation.org
About Post Author