Review: Petal Sparkling Botanical Blend Mixers
Review: Petal Sparkling Botanical Blend Mixers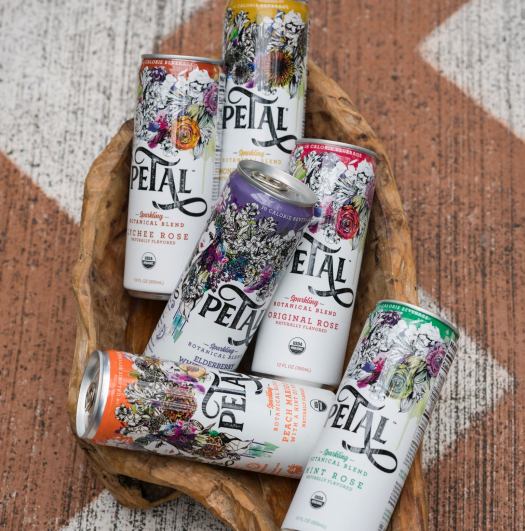 Who doesn't love a good Gin & Tonic, Vodka Soda, or Dark & Stormy? While premium sodas from Fever Tree and Top Note have elevated the classics, perhaps there's room for a newcomer to offer original flavors that taste just as great when mixed with a spirit as they do on their own.
Enter Petal, launched in 2017 by founder Candice Crane. Crane's idea for Petal originates from her grandmother's love for herbal tea, specifically floral blends. Each Petal can is a sparkling blend of fruity and floral flavors, mildly sweetened with organic agave syrup (each flavor we tried has only two grams of sugar and ten calories per can). Let's see how they taste own their own and as a mixer.
Petal Lemongrass Dandelion with a Hint of Strawberry doesn't offer up much in terms of aromatics, but that's not a knock against it. The lemongrass comes through the strongest with touches of floral and strawberry. On the palate I didn't pick up the strawberry, but the floral elements are more obvious. It's a good "soda water substitute," for when you want just a bit more flavor than plain soda. Very quaff-able with nothing too fragrant to exhaust the palate. B
Petal Elderberry White Tea Flowers is more potent aromatically, dominated by elderberry. Any bartender that's experimented with St Germain knows that it's easy to go overboard with the stuff. Sweetness comes through clearer than the Lemongrass Dandelion. The elderberry isn't as strong on the palate, a good thing as too much would have been tiring. Stock up on this one if you love elderflower liqueur, otherwise you could overlook it. B-
Petal Peach Marigold with a Hint of Basil is the fruitiest on the nose with clear peach aromatics. Unfortunately the flavor is a little off, like it needs more sweetness to compliment the peach rather than floral and herbal; the basil doesn't help, producing a dissonant note on the finish. It tastes like it's trying to do too much for such a light beverage. C+
When mixed with spirit, I found the flavors of the Lemongrass Dandelion are a good match for gin but the alcohol overpowers; too much gin and cocktail feels too boozy, too little and the gin's flavors are lost. I couldn't find a good balance no matter the ratio. One reason why tonic water is a great match for gin is that the sugar and bitterness provide the structure to support the alcohol; Petal is too easily overwhelmed.
As an experiment, I tried the Lemongrass Dandelion with a Junmai Ginjo sake and found this to be a good match: the melon and pear flavors typical of this style of sake work well, and the 15% to 16% alcohol content of sake is a better fit for Petal than that of hard liquor.
All said, Petal is a more complex and intriguing alternative to one-note sodas like La Croix. I'm not convinced of its potential as a cocktail mixer, but I do encourage giving it a try when you're in the mood for a light soda with an unconventional flavor profile.
each $2 per 12 oz can / drinkpetal.com