Review: Woodford Reserve Master's Collection Chocolate Malted Rye Bourbon
Review: Woodford Reserve Master's Collection Chocolate Malted Rye Bourbon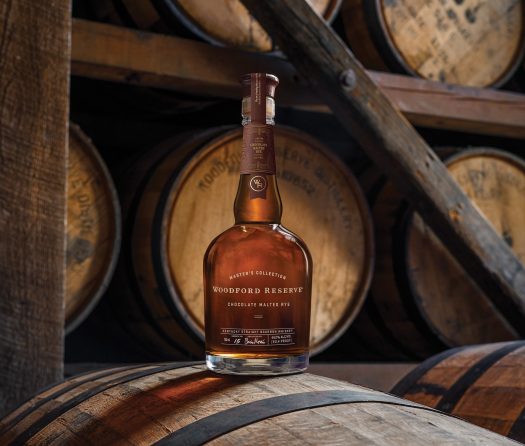 The 2019 offering from Woodford Reserve's always intriguing Master's Collection has arrived, and to clear up any misconceptions from the get-go, it does not have chocolate in it. "Chocolate malt" is a term common in the brewing world, used to describe a heavily roasted, malted grain (in this case, rye), that takes on a caramelized, chocolate note. Our pal Chris Morris explains further:
Woodford Reserve Master Distiller Chris Morris, always seeking to innovate with new flavor ideas for whiskey, discovered a unique flavor technique: toast rye grain long enough and it begins to taste like chocolate.

Thus was born his newest whiskey — Woodford Reserve Chocolate Malted Rye Bourbon. This limited-selection and one-time-only product is being released this month in the United States and globally as part of Woodford Reserve's celebrated Master's Collection.

"The rye malt was roasted to a level that its natural sugars caramelized into a dark chocolate note," Morris said. "This special bourbon even surprised me as it matured in our warehouses. Each time I tasted it, the chocolate notes became even more pronounced."

The product, with a suggested retail price of $129.99, has hints of dark chocolate and spice and presents at 90.4 proof. ?The mash bill is 70% corn, 15% chocolate malted rye, 15% distillers malt.

"Woodford Reserve Bourbon? has a complex and balanced flavor profile that includes a hint of chocolate," Assistant Master Distiller Elizabeth McCall said. "Chocolate Malted Rye takes those cocoa notes to a new level. Everything we do at Woodford Reserve goes back to our core belief that flavor is everything."
So, is flavor everything? Let's find out!
The nose is rich, but it's at first more redolent of coffee than chocolate, and with time in glass it begins to develop its granary aspects much more clearly — heavily toasted rye bread and Melba toast — before settling down to showcase an ample barrel char element, too. The palate is dense and impressively complex, with numerous elements rarely seen in bourbon. Notes of coffee kick things off, followed immediately by a slug of licorice. Some more traditional notes of cloves, vanilla, and barrel char round the whiskey out, though the finish is surprisingly bittersweet and tannic, that chocolate malt really making its presence known here with notes of raw cocoa powder.
It's fun stuff, though for many it may fall too far from the norm. And to be sure, all told, it may not be the most overtly delightful whiskey Woodford has ever put out, but it is one of the most unusual — and, as I see it, it's surprisingly good, too.
90.4 proof.
A- / $130 / woodfordreserve.com [BUY IT NOW FROM CASKERS] [BUY IT NOW FROM FROOTBAT]
About Post Author