Review: Campari Cask Tales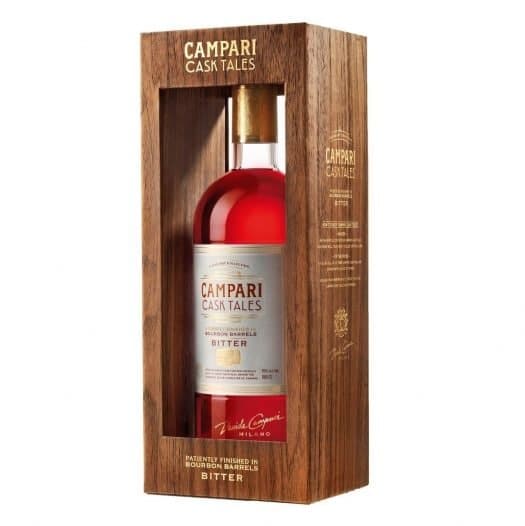 Campari needs to be a standby of every bar — commercial or home. The classic, bright red aperitif is intensely bitter yet delightfully fragrant and flavorful, making possible all manner of intriguing cocktail combinations.
And now there is a new version of Campari: Campari Cask Tales, a version finished in bourbon barrels. How about some backstory?
Steeped in a rich heritage dedicated to the world of art and craftsmanship, Campari, Italy's iconic bittersweet red aperitif,  is introducing a new expression to the United States in limited quantity to celebrate over 150 years of the legacy of Davide Campari. Created by revered Herbalist & Master Blender, Bruno Malavasi, Campari Cask Tales represents a new chapter in Campari's illustrious history as a contemporary take on the classic Campari that is finished in bourbon barrels, resulting in a unique and unprecedented palate experience.

Adding a twist to the legacy that was passed down by Gaspare Campari to his son, Davide, Campari Cask Tales is an exploration into the world of cask-finishing. Bruno Malavasi experimented with casks from multiple sources to find the ideal environment to age and flavor the liqueur, which finally led to Bruno's selection of second-fill bourbon casks, resulting in a liquid masterpiece.

One of the world's most iconic aperitifs, Campari takes great pride in celebrating and emboldening bartenders to create intriguing drinking experiences. Campari Cask Tales was largely inspired and informed by passionate bartenders from around the globe, including Leo Robitschek, Gaz Regan, and Jeffrey Morgenthaler, who shared their expertise and guidance alongside Bruno. Their invaluable insight coupled with the patience of time within the cask were essential to define the best variation of the spirit.

While Campari Cask Tales was crafted to inspire bartenders to experiment and create their own masterpieces, the unique spirit can also be enjoyed in classic, simple serves such as neat or on the rocks. Cask Tales also shines in the form of a Shakerato, where the spirit is shaken vigorously with ice and served up in a chilled cocktail glass. A simple-to-execute and delicious cocktail, the Shakerato exquisitely highlights Cask Tales' nuanced and remarkable flavor profile.
Let's give this new Campari expression the Drinkhacker treatment.
Compared side by side with the original Campari, the color is identical, and the nose is incredibly similar. Nosing them blind, you'd be hard pressed to pick out any differences. Both are loaded with notes of gentian, cloves, and dried fruits. The only minute difference I really catch is a stronger note of fennel on the Cask Tales release, but this is mild.
The palates diverge more clearly. While Campari is aggressively bitter through and through, Cask Tales has a clear edge of sweetness and a solid vanilla note, both a clear by-product of the bourbon barrel finishing. It's not much, but it's enough to temper the toughness of standard Campari quite nicely, making the finished spirit approachable enough for sipping straight, even neat. The finish is clean and moderately herbal, a classic amaro composition with a sprinkle of brown sugar in the mix.
All told, it's no replacement for the iconic Campari, though it makes an equally good Negroni/Boulevardier. That said, if you're looking to sip on something bittersweet, this spin on a classic is worth picking up… though perhaps not worth three times the price.
50 proof.
A / $70 (1 liter) / campari.com
About Post Author