A Visit to Islay's The Botanist Gin Distillery
If you want to get ahead in the distilling business, it seems a good idea is to start as a tour guide. At the Bruichladdich distillery on Islay, the Scottish island renowned for peaty malts like Laphroaig, Lagavulin, and Ardbeg, two of the top men both began their careers as tour guides.
Adam Hannett, the Head Distiller, began his Bruichladdich career leading guided tours of the distillery, while James Donaldson, the man with the intriguing title of Head Forager, began by leading whisky tours from the Scottish mainland, which brought him to Islay almost every other week. From there he got a job at one of Islay's other legendary distilleries, Bunnahabhain, until he saw that Bruichladdich was advertising for a Head Forager. Having earned a degree in Botany at Edinburgh University, he was excited, to say the least, about working on Bruichladdich's gin brand, The Botanist.
'It was the tick-list of my dream job,' he says, 'so I went for it with both hands. I also knew a lot of the guys here, who knew me as a tour guide, and they said, "What, you mean you're a botanist as well?"'
Bruichladdich has had a checkered history. First built in 1881, it changed hands several times, including a spell when it was owned by Jim Beam. It was eventually closed in 1994, then brought back to life by a team of private investors in 2000. They lured the legendary Master Distiller Jim McEwan away from Bowmore, where he had worked all his life, and they set about reinvigorating the name of Bruichladdich. It was a success, and the distillery is now owned by Rémy Cointreau.
It was Jim McEwan, back in about 2008 or 2009, who first had the then revolutionary idea of producing a gin on an island where only whisky had ever been made, says the man who replaced Jim McEwan when he retired in 2015, Head Distiller Adam Hannett.
'It was Jim who first said, "Let's make a gin. But not any gin, let's make Islay gin." Being an independent company at the time, we could do this without any bean-counters telling us we couldn't.
'We bought the equipment from a whisky distillery in Dumbarton that we heard was closing down. We literally drove over there with some trucks and filled them up with everything – light bulbs, carpet tiles, everything. We also acquired their 1959 Lomond still, which we named Ugly Betty. It has been described as an upside-down dustbin. Jim modified it to make gin in. He then met two retired botanists and worked with them to choose the botanicals that would give the gin the Islay signature, add the Islay DNA to the gin. Obviously we buy citrus and some other botanicals in. As lovely and sunny as it is on Islay – actually we get 200 rainy days a year – we can't grow citrus!'
Ugly Betty holds 15,500 litres, and the gin distillation process is a very slow one. The nine core botanicals are put in the base of the still, and the first period of distillation lasts for twelve hours. Then a bag containing the 22 Islay botanicals goes into a silver bucket in the neck of the still – part of Jim McEwan's modifications – and a further seven hours of distillation follows.
'We haven't changed anything about the process since that first distillation,' says Hannett, who grew up on Islay. 'We taste the spirit about every 20 minutes to check how it's getting on. When you taste the gin there are little touches of such things as bog myrtle that take you back to your Islay childhood. We're very proud of what we do and where we come from. I have no idea how other people make their gin, and don't want to know, in case I get influenced. I just know how we make our gin, and that works for us.'
It certainly does, as Bruichladdich now makes more gin than whisky, though Hannett explains that whisky is still more important in overall terms for the distillery.
Also important for The Botanist is Head Forager James Donaldson, without whom there would be no gin at all. From roughly March to October he covers every inch of the island gathering enough of all 22 Islay botanicals that go into The Botanist. Originally there were only 21, but now Bruichladdich adds a token sprig of Islay juniper to highlight the plight of juniper on the island. It does grow here but not in large numbers and it's not of very good quality, so Bruichladdich is slowly replanting.
'And in only another 250 to 300 years we might be sustainable,' Donaldson laughs, something he does a lot. But he is also deadly serious, and passionate, about his beloved botanicals.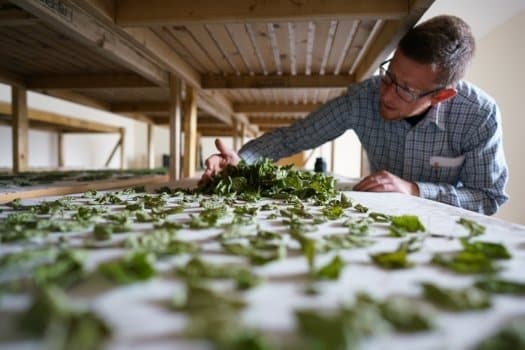 'Every one of those 22 botanicals has its own story, its own elements,' he explains. 'Apple mint is an interesting botanical. It doesn't self-seed, so it has to be planted. At one time every house on the island would have had its own apple mint plant, for flavouring things like roast lamb or tea. At one time Islay had a population of about 15,000 to 18,000 people. Now it's down to 3,000. All those people have disappeared, whole villages have disappeared, but the apple mint remains.'
'When the gorse blooms, that's when my season begins. From then on I'm gathering botanicals as they come in and out of season. Some are very narrow windows. Last year was a beautiful summer and there was maybe a two-day period between the hawthorn opening up and then dropping off. So it can be long days. If I get to the end of the season I can't sit back and think: "Oh, I forgot the hawthorn!" I've got a hundred people's jobs resting on me getting those botanicals in.'
And what's the most rewarding thing about his job as Head Forager? Donaldson thinks for a while, then says: 'It's great to have a job where you have a physical result, not only in the botanicals but in the end product, and you know you're a part of every single bottle.'
IF YOU GO: Bruichladdich is open daily for tours (except Sundays in winter). Gin production only happens at certain times of year, but whisky production is ongoing.  Their Botanist tour takes place at 2pm on Monday, Wednesday, Friday, and Saturday, from April to October, and at 2pm on Wednesday from November to March. For more information and to book a tour, visit their website.