Review: The Balvenie Stories – American Oak, Week of Peat, and Dark Barley
Review: The Balvenie Stories – American Oak, Week of Peat, and Dark Barley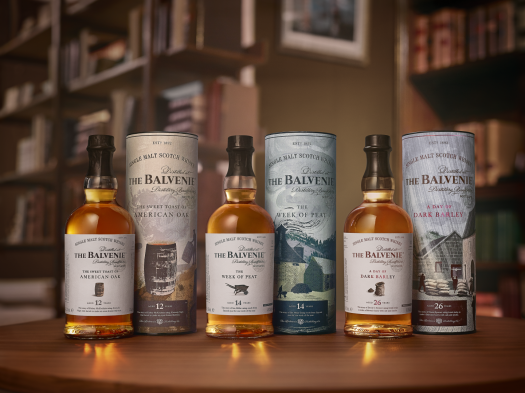 Here's a quirky oddity of sorts to come from The Balvenie, a trio of whiskies called The Balvenie Stories, designed to "tell a story" about the origins of this beloved single malt and the people behind it. The three whiskies are spins on past releases — some larger, some smaller — but all essential Balvenie juice. Some details:
While always looking forward, The Balvenie remains true to the techniques passed down by its craftsmen from generation to generation. As in years past, it remains a place run by people – where human touch, skill, and emotion prevail over machine and automation. In this way, each whisky produced by The Balvenie tells a human story, evolving with the protagonists and developing unexpected twists through years of maturation. The three expressions of The Balvenie Stories celebrate that evolution – coming to be as the result of a story worth telling. Whether it was Apprentice Malt Master Kelsey McKechnie using Kentucky Virgin oak to make a fruitier Balvenie, or former distillery manager Ian Millar introducing smoke from Speyside peat, or Malt Master David Stewart MBE using an unusually brittle barley, each expression tells its own tale in liquid form.
We sample the trilogy. Ready to dig in?
The Balvenie Stories – The Sweet Toast of American Oak 12 Years Old – "This is the story of the spectacular things that can happen when ancient technique meets fresh ideas, as newly appointed Apprentice Malt Master Kelsey McKechnie experimented with twice-charred white American oak from Kelvin Cooperage in Louisville, Kentucky to produce an even fruitier, sweeter tasting Balvenie." To clarify: The experiment was to take already bourbon barrel-aged Balvenie and finish it in virgin oak. It doesn't take long for the oak to make its presence well known. Wood is aggressive on the nose, much like you get in American single malts which are aged entirely in new oak, with some sweet cereal, menthol, and a creme brulee notes folded in. The palate: All wood, the delicacy of Balvenie all but washed away. In its place you'll find cloves, pepper, roasted grains, and plenty of lumber influence. It's a dull cudgel where Balvenie is normally so bright — drinkable, sure, but largely charmless. 86 proof. B- / $60 [BUY IT NOW FROM CASKERS]
The Balvenie Stories – The Week of Peat 14 Years Old – "An evolution of The Balvenie Peat Week Aged 14 Years, which launched globally in 2017. This expression tells the tale of Malt Master David C. Stewart MBE and former distillery manager Ian Millar using a week's gap in the distillery's production schedule to experiment with the use of peat in the barley drying process, having sampled various ages since 2002. The result is a classic Balvenie expression with honey, vanilla and citrus notes with an extra layer of delicate smokiness." As near as I can tell this is simply Balvenie Peat Week, but without a vintage associated with it (the usual M.O. for this bottling). It's much closer to the 2002 vintage than the 2003, a much more gentle smokiness lacing itself in beautifully — on both the nose and the palate — with the whisky's innately floral, honeyed character. The finish has a stone fruit sweetness and a touch of briny iodine, with a sharp hit of citrus on the back end that seems pulled from the sherry playbook (though Peat Week is always drawn from 100% bourbon barrels). Fun stuff. 96.6 proof. A- / $99 [BUY IT NOW FROM CASKERS]
The Balvenie Stories – A Day of Dark Barley 26 Years Old – "The story of Malt Master David C. Stewart MBE and The Balvenie's malt men experimenting with a heavily roasted dark barley in 1992. The resulting liquid was originally released in 2006 as the 14-Year-Old Balvenie Roasted Malt, however casks were retained for extra maturation, eventually becoming a classic aged Balvenie, but with extra depth and oak notes gleaned from the darker malt." This is the most unique whisky in this bunch, seeing Balvenie hang on to an old one-off release and nearly doubling its age. And wow, this is a really unique dram. The nose is husky and dusky — you can really smell the dark roast here the way you can smell dark roast coffee beans — with a kind of burnt toast note alongside more traditional notes of honey and baking spice. It's actually engaging, and invites delving into the palate, where more charms await. Lively with notes of sweet honeycomb and brown sugar, the initial rush of sweetness quickly takes a dive as savory elements emerge: toasted sesame, flamed orange peel, allspice (so heavy after a time), and tobacco leaf are all in effect. Somewhat drying on the finish, with spice lingering on the tongue for ages. Wildly unexpected, it may not be your daily go-to dram, but it's definitely worth tasting and savoring. 95.6 proof. A- / $799 [BUY IT NOW FROM CASKERS]