Welcome to the inaugural edition of our Top 10 Beers of the Year list, an annual feature that we'll be running every summer, assuming all goes well. How are we creating a top 10 of 2019 in the middle of July? By being a little sneaky: Our selections are drawn from beers released between June 2018 and June 2019. Next year, we'll do another June to June feature story.
As with all of our top 10 stories, this list is created by the full Drinkhacker staff and reflects our combined opinion rather than any single writer's point of view. (With that noted, you'll find the initials of the specific writer of each blurb at the end of each entry.)
So, what'd we miss? What have your favorite beers of the year been? And what should we keep an eye out for in preparation for our 2020 list? Sound off in the comments or on one of our social media channels — and thanks for reading!
1. Lagunitas The Waldos 2019 (California) – You won't find a beer more expressive this summer than Lagunitas' prized release of The Waldos, the company's annually produced double IPA that tips the scales at 11.7% abv. The ultra-powerful monster beautifully melds tropical fruit and dank hops in its silky, unctuous body, wrapping things up on a sweetish, gently candylike finish. It's the crown jewel in what has turned out to be a phenomenal year for the California-based brewer, which is hitting it out of the park almost every time with new full-time releases and seasonal offerings. -CN
2. Deschutes Brewery Black Butte XXX 30th Birthday Reserve (Oregon) – The annual release of The Abyss is always a celebratory brew, but to mark its 30th anniversary, Deschutes really raised the bar with its sister brew, Black Butte. It's a crazy beer brewed with cocoa in the mix, then aged in eight different kinds of barrels, which variously contained bourbon, rye, rum, port, sherry, cognac, maple syrup, vanilla extract, and sea salt. The silky, incredibly powerful result (at 13.6% abv) is one of the most complex in recent memory. Pick up all you can find and lay them down for sampling over the next few years. -CN
3. Firestone Walker XXII Anniversary Ale (California) – For the 13th installment of its Anniversary Ale (marking the 22nd anniversary of the company), California's Firestone Walker Brewing held a competition among a select group of the brewery's winemaker friends to see which team could craft the better beer. The victorious blend was almost half Stickee Monkee quad (44%), equal parts Parabola imperial stout and Bravo brown ale (22%), with a dash of Rum Barrel Helldorado (7%) and Gin Barrel Helldorado (5%) barleywines. Those small amounts of rum and gin barrel-aged barleywines show outsized flavors in the final blend, creating a complex beer with a really unique flavor profile covering a range of flavors from the classic malt and vanilla to the exotic juniper and hogo. Quite the birthday celebration! -DB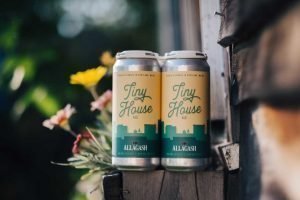 4. Allagash Tiny House (Maine) – Session beers rarely get much love, often pitched at those who want a "light" beer experience (with a "light" flavor coming along for the ride). With Tiny House, Allagash has succeeded in achieving two competing goals: lowering the abv while giving the beer a real character of its own. Tiny House is definitely a session beer with a super low 3.4% abv, but it has an undeniable Belgian character, enjoyable citrus notes, and a dry, hoppy finish. Tiny House is both delicious and refreshing. Finally, a summer brew for people who love beer! – RL
5. Stone ///Fear.Movie.Lions Double IPA (California) – Stone proves that the west coast can do hazy just as well as New England with this masterful DIPA, richly textured with both fruit and leathery funk. I'll let our full review do the explaining in regards to the oddball name. -CN
6. Old Nation Brewing New Orthodox IPA Series M-43 (Michigan) – Like the best of divas, this New England IPA made a major arrival statement on an already crowded Michigan beer scene when it was first unleashed a few years ago. Stores barely kept it stocked, and people were travelling from all over the region to sleepy Williamston, Michigan for a chance to purchase a four-pack, growler, or pallet. It's a beautiful hazy IPA that bursts with amazing citrus notes of pineapple, orange, lemon, and mango. The four types of hops are balanced wonderfully and are never overpowering, making it accessible to even the staunchest of anti-IPA drinkers. Thanks to an expanded distribution network, M43 is poised to win more hearts and minds very soon. Pairs well with summer. -RT
7. Avery Brewing Uncle Jacob's Stout (Colorado) – There are plenty of bourbon barrel-aged stouts on the market, but you have to expect a little more from one that's named after the man who supposedly coined the term "bourbon." Luckily for Colorado's Avery Brewing, whose owners claim ancestry with the famed Jacob Spears, its bourbon barrel-aged stout is a shining example of the style. It's not overly boozy despite the proof, syrupy on the palate without being too sweet, and full of complexity with beautifully balanced coffee and candy bar notes. Uncle Jacob would be proud. -DB
8. Harpoon Catamount Bourbon Barrel Aged Porter (Massachusetts) – This on-premise exclusive isn't something you'll be able to pick up at your local market, but it's arguably worth the trek to Vermont or Massachusetts in order to sample it. A burly porter aged nearly a full year in bourbon barrels, it's an iconic example of a dark, barrel-aged ale that manages to avoid the exhausting sweetness so common in this style. Beautiful and boozy, with layers of coffee, coconut, chocolate, and more. -CN
9. Troegs Boysenberry Tart Ale (Pennsylvania) – Some flavored sours are too tart, too fruity, or try to do too much – and as a result they come off as convoluted and clunky rather than focused and interesting. Fortunately, Troegs' Boysenberry Tart Ale avoids all of these trappings. Boysenberry is the perfect foil to the coriander, sea salt, and yogurt funk that is typical of a Gose, putting a delicious twist on this old world style. The fruit addition tastes fresh and it isn't overdone, offering a counterpoint to the traditional Gose flavors rather than overpowering them. -SA
10. Angel City Avocado Ale 2018 (California) – This fun seasonal arrived at the tail end of 2018, a Kolsch that uses honest-to-god avocados in the brew kettle, as well as lime juice, honey, and cilantro. Like a Mexican lager, but richer and earthier, and surprisingly refreshing. And yes, the avocado character does come across on the palate. -CN