Tasting Report: Jack Rose Dining Saloon Premier Drams 2019
Tasting Report: Jack Rose Dining Saloon Premier Drams 2019
Jack Rose Dining Saloon in Washington, D.C. hosted their second Premier Drams festival in early April, and Drinkhacker was once again invited along for the ride. It was probably apparent from last year's Tasting Report that I thoroughly enjoyed the inaugural event and found the variety and quality of the whiskey available to be excellent overall, with a few rare exceptions (ahem, Czech Single Malt). This year's event saw most of the same brands return along with a few new additions including the Scotch Malt Whisky Society, That Boutique-y Whisky Company, and Barrell Craft Spirits. Last year, Wilderness Trail and Willett really stole the show for me, but I found myself spending a lot of time at the Scotch Malt Whisky Society table this go around. Notes on those bottles and everything else I tasted, to the best of my recollection, are below. Enjoy!
Scotch
Compass Box Juveniles – One of the newest from Compass Box. The nose is light and creamy, a hallmark of many Compass Box blends, with a slightly fruity palate showing lots of vanilla and lemon zest. This one is almost too delicate to taste against anything else. Glad I started here. B+
Compass Box Flaming Heart – On the other end of the Compass Box spectrum, Flaming Heart is hot and smoky on the nose, with a spicy palate full of citrus and baking spice. A little too hot. B
Johnnie Walker Blue Label Ghost & Rare– One of my last pours of the event. A surprisingly bright citrus nose with honey and fruit on the palate and a savory finish. Not at all what I expected and a dram I wished I'd begun the night with before palate fatigue set in. Your mileage on this one will almost certainly vary. A-
Single Cask Nation Craigellachie 10 Years Old – Having gotten some backstory on this one, I learned that the guys at Single Cask Nation pride themselves on bottling unique representations of a certain distillery. Sometimes that means a truly weird cask. As such, this whisky was chosen for its uniquely peaty, sweaty character, which came across to me like smoky chicken noodle soup. Not a daily, or maybe even a yearly, drinker, but a fun whisky to explore. B
Single Cask Nation Stones of Stenness 18 Years Old – Lots of bourbon barrel on this one with vanilla and caramel sauce. Bright with nice toasted grain notes. Almost certainly a Highland Park and a very nice expression, at that. A-
Ardbeg Drum – This is the latest limited release from Ardbeg finished in rum casks at a lower proof than the Committee Release. The nose is bright and creamy with iodine and lemon zest. The palate is sweet and savory with some unique spice, almost jerk, and a lingering grilled pineapple smokiness on the finish. A-
Glenmorangie Bacalta – One of my favorite of Glenmorangie's Private Edition line is still showing well. Tons of bright citrus on the nose and a rich, sweet, dark fruit palate from the Malmsey Madeira wine-finish. A classic. A
Kilchoman 8th Edition – The oloroso sherry notes in this one are a nice complement to the Kilchoman style that always seems bright and fresh to me. The smoke is perfectly dialed in, too. A-
Glenfiddich Fire & Cane – The newest from Glenfiddich and their only peated expression in the current offerings. The smoke is there, but it's delicate and complemented with tropical fruit notes from the rum cask finish. A bit hard to taste against the rest of their offerings, but a welcome new addition. B+
SMWS 39.169 Yummy Rummy – A 29-year-old Linkwood bottling finished for three years in a second-fill toasted hogshead (all ex-bourbon aged). Tons of vanilla on the nose and cherry candies. The palate is rich and layered with floral notes, tropical fruits, and a touch of citrus. Wonderfully long finish. A
SMWS 53.270 Preparation for Skinny Dipping – Probably the best named whisky of the afternoon. A Caol Ila youngster at 7-years-old and all ex-bourbon hogsheads. This one had a smoky, butterscotch pudding nose. The palate was heavy on the peat but even more so on the baking spice. B+
SMWS 5.69 Triple Wammy! – A 17-year-old single malt from Auchentoshan aged in first-fill Pedro Ximenez hogshead. The nose on this one was honeyed with a slight tropical sweetness. Despite sizable dark fruit notes, the palate was more in line with familiar lowland single malts. A-
American
Wilderness Trail Small Batch Bourbon – The latest from Wilderness Trail (and their first rye bourbon) continues an impressive trend of younger whiskeys that drink with the balance and complexity of something far older. The balance of classic rye notes, fruit, and baking spice was exceptional and almost too easy drinking. A-
Cream of Kentucky – This reincarnation of an antique brand is a sourced release from a team that includes legendary Four Roses Master Distiller Jim Rutledge. Loads of mint on this one up front. There's some caramel and red fruits underneath it all, but the herbal notes really dominate. It comes together more on the finish with brown sugar and cinnamon. B
Willett Family Estate Bourbon 5 Years Old – Willett-distilled Family Estate Single Barrels are appearing more and more outside of Kentucky. This high rye (32%) example showed that classic Willett fruitiness on the nose while the palate was a little more cinnamon and wintergreen. Not as rich or complex as some I've come across in the past. B+
Willett Family Estate Bourbon 6 Years Old – Very different than the five year with 72% corn and 12% malt, this Willett lacked the familiar fruitiness. A creamy caramel nose with a palate full of baking spice and oak. Hot and a bit too sweet. B+
Willett Family Estate Bourbon 15 Years Old – Anything over the 6 or 7 year mark from Willett is still a sourced product and commands a very high price, especially on the secondary market, so this bottle drew a crowd. The nose was big with baking spice and brown sugar and a healthy heat. Lots of oak up front on the palate, but then a spell of graham cracker and orange zest before a gentler heat returns. A-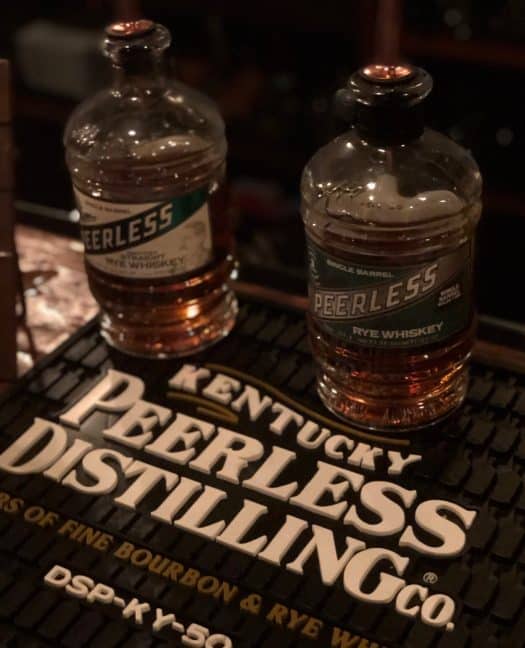 Kentucky Peerless Rye Single Barrel 3-Years-Old "Apple Crisp" – The rare Peerless single barrel comes complete with its own tasting notes in the name. I do get loads of apple on this one on the nose and palate, while some of the younger cereal notes take on a buttered pastry quality. One of my favorite Peerless ryes yet. A-
Barrell Infinite Barrel Project – The nose on this whiskey is light with cereal notes and a grassy, floral element I can't quite place. The palate is similarly light but flavorful with honey and chocolate. B+
Barrell Dovetail – Lots going on here. Hot on the nose with a much a more approachable palate full of tropical fruit notes, dark berries, and brown sugar. The rum and wine casks make themselves known. Exceedingly drinkable at cask strength. A-
Belle Meade Honey Cask Finished – Clearly finished in a honey barrel but without the expected cloying sweetness. Maybe even less sweet somehow than the typical offering. The nose and palate are classic Belle Meade bourbon with baking spice and maple wood, but the mouthfeel is clearly "honeyed," allowing the flavor to linger a little more on the palate. A standout of the event and definitely the most unique bottle poured that afternoon. A
Ticket prices for the second Premier Drams did tick up a bit, but the quality and uniqueness of the options seemed well worth the added cost. And it was still less than half what you'd pay for some whiskey festival tickets with more options than I could get to in one afternoon. Looking forward to next year!