Review: Whiskies of Claxton's, 2019 Releases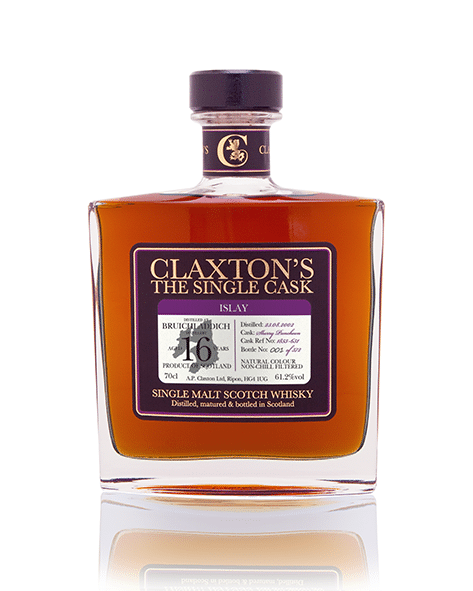 Claxton's is an independent Scotch bottler based in Yorkshire in the UK, and if you're like me, you've never once encountered its single malt whiskies in the States. There's a good reason for that: They aren't currently sold here. That could change in the near future though, as Claxton's is actively looking for U.S. distribution — even though its production is fairly small, as they are all cask strength, single cask releases.
There's a good chance that you'll run across a bottle of Claxton's rare single malts if you're traveling across the pond (you'll know them by the squared off bottle), so for now, here's a look at six recent releases of the company's whiskies (most of these came out in late 2018 but many are still available in the UK; offerings are constantly changing), along with our thoughts.
Prices are estimates — though most are surprisingly affordable — and are noted in dollars at current exchange rates.
Claxton's Miltonduff 2008 9 Years Old – A relatively rare Speyside, matured in first fill bourbon barrels. I really loved the nose on this, full of bold honey notes, some lavender and linen, all on top of the gentle grain character one expects from a fairly youthful spirit. Big surprise then: The palate is quite racy and hot, loaded with rather blunt alcohol notes along with a rather doughy cereal character. Not much else going on on the tongue, even with water. 111.8 proof. B- / $75
Claxton's Teaninich 1999 19 Years Old – From a Highlands-based Diageo operation, not known for single malt. Aged in bourbon hogsheads. Immediately on the unpleasant side: The nose is musty and earthy, with overtones of roasted vegetables. Eye-searing with alcohol vapors. The palate changes the picture little: Hot, full of tar and petrol and an overwhelming cereal note. Some hints of dried fruit on the very back end of the finish are inviting, but the overall astringency does the whisky in. 106 proof. C- / $108
Claxton's Springbank 1996 22 Years Old – A 22 year old bourbon hogshead casking from this Campbeltown icon. Classic Springbank on the nose: A mix of iodine, green apples, nuts, and oily petrol. The palate is bold at full strength, with lots of initial citrus notes surprising, then leading to a boldly nutty body that features brown sugar and a little maple. The finish sees chewy nougat, almond, and a touch of cherry — engaging and fairly well-balanced throughout. 110 proof. A- / $541 (due to rarity)
Claxton's Benrinnes 2008 10 Years Old – A classic, if little-seen, Speyside malt, aged in both bourbon and sherry casks (though how long in each is undisclosed). On the whole this feels like a great balance has been struck between bourbon and sherry. The nose is a bit heavy with furniture polish notes, masking a fruity/nutty melange beneath, but the palate showcases a surprising maturity. Moderately sweet with brown sugar and some cinnamon-led spices, the whiskey rolls from there into notes of toasted nuts, ample citrus peel, and some eucalyptus notes and hints of coffee on the finish. Solid balance and approachable at full strength. 103.4 proof. A- / $59
Claxton's Bruichladdich 2002 16 Years Old – Aged in a sherry puncheon. Very dark in color, this is unpeated Islay with a huge burst of sherry from start to finish. The nose is rich and oily, largely bypassing citrus en route to leather, savory spices, and damp dungeon wall notes. The palate is again intense with oily citrus peel, dark walnut, some creosote, and black pepper. The finish evokes truffles, some forest floor, and the embers of an old cold fire. B+ / $160
Claxton's Arran 1996 21 Years Old – Aged in a sherry puncheon, this remote island whisky is an exotic and unusual dram from the start. The nose is hot, with notes of horse saddle, burnt orange peel, and Turkish rug shop. The palate is equally exotic, starting off with a rush citrusy sweetness before diving off a cliff that takes you to notes of overripe banana, shoe leather, (very) dark-roasted chestnuts, and — ultimately — a big bite of beef jerky. This meaty finish isn't the most engaging part of the otherwise interesting whisky, though the journey to get there has its moments. 104.2 proof. B / $160