Review: Tullibardine The Murray Marsala Cask Finish
Review: Tullibardine The Murray Marsala Cask Finish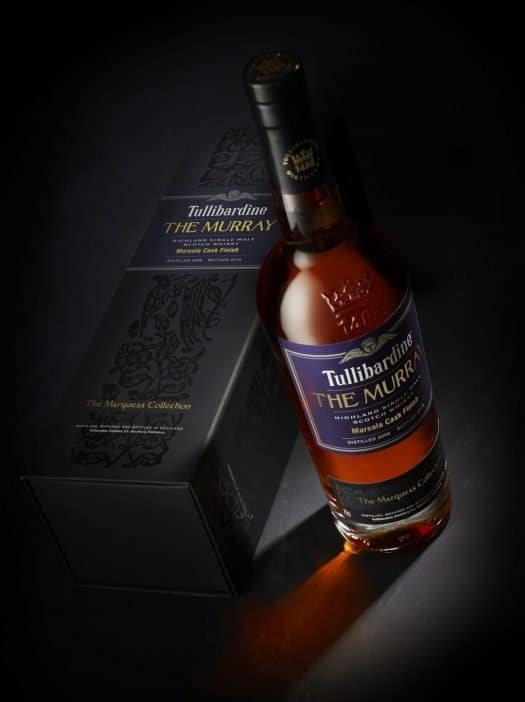 Hot on the heels of its oddly-named The Murray single malt, Tullibardine is out with a follow up in this "Marquess Collection," The Murray Marsala Finish. This new expression was distilled in 2006, aged in first-fill bourbon barrels, then finished for another year in Sicilian Marsala wine casks. (Total aging appears to remain steady at 12 years, though this isn't completely specified.)
The Murray Marsala Cask Finish is actually the fourth whisky to join this Marquess Collection, "which includes the industry-renowned Murray 2004 and 2005 expressions. The Collection unveiled its first wood finish earlier this year, The Murray Châteauneuf-du-Pape, mirroring the distillery's focus on experimenting with different casks and wood types."
Let's see if it stands up to the original bottling.
It's definitely a departure. Marsala can be hit or miss as a finishing cask, and this whisky is oddly sharp and sherry-like, with a relative pungency that seems a bit weedy, slightly acrid at times. The palate redeems things fairly handily, with a more robust and quite winey character that mingles with notes of brown butter, golden syrup, and again a certain sharp character that comes across like black pepper. The finish is on the muddy side, slightly doughy and a bit flat, which is a surprise given the more aggressive attack.
Ultimately the Marsala character never quite pops here, leaving things on a more indistinct, sherry-adjacent note that never really coalesces.
92 proof.
B / $80 / tullibardine.com
About Post Author