Bar Review: Berber, San Francisco
Berber is a new restaurant in San Francisco that specializes in the cuisine of Northern Africa. Open for about 3 months, Berber hosts live performances on the weekends — belly dancing, acrobats, and the like — that diners can enjoy in between courses. While we didn't have reservations for the show (this takes place in a separate room within the restaurant), that made it all the easier to sample Berber's cocktail menu, which includes eight drinks all with an African flair. Some are classics spun a bit sideways with a kick of spice, some fairly novel inventions. The good news is we got to sample all eight, and now I'm going to tell you about them.
Let's start with some favorites. The Royal Bazar (bourbon, cinnamon, vermouth, bitters, orange zest) is a delightful update of a Manhattan, and while this doesn't reinvent the wheel, its addition of cinnamon and more fruit makes it go down incredibly easy. Of all the 8 cocktails, this was the only one we finished, and hoped for another. A close second is The Song of the Bulbul (rum, rose, lime, egg white). Essentially a rum sour, this boldly creamy drink is sultry and soulful, its rose petal influence thankfully not overwhelming the core of the experience.
The Gates of Fez (brandy, cardamom lillet, chamomile) was a cocktail that I slowly warmed up to. Chamomile is a divisive ingredient, but over time I found it working well with the cardamom notes to create a distinctly African-ish experience. The Souk du Soleil (saffron gin, orange blossom, honey, lemon) requires a similar approach: The saffron here is immediately pungent, but it's the earthy honey that really makes the drink.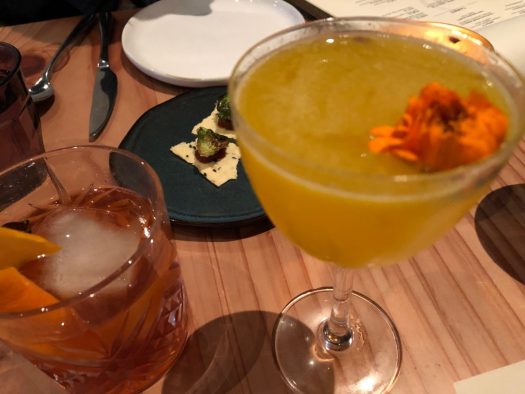 I was less excited about the Medina (tequila, absinthe, caramel, walnut bitters) an odd-sounding recipe that is even stranger in the glass, and initially tastes like neither tequila nor absinthe. My wife loved it, saying it had a chocolate character, though I found the strong agave finish to be a little much for the delicate cocktail. It's the most complex drink on the menu, though, so order one and discuss.
I didn't really care at all for the Tatooine (whiskey, jasmine tea, cinnamon cordial), which sounds harmless but is overwhelmed by jasmine, making it quite bitter. Conversely, the Masinissa's Old Fashioned (bourbon, anise, blood orange bitters) just felt too familiar, the anise not really standing out meaningfully.
Naturally, Berber is a restaurant first, so you'd be remiss not to enjoy some of its snacks or mains, which include tajines, mezze plates, and grilled items. While I've had everything on the cocktail list, there's still plenty of food for me to explore… which I look forward to doing next time I'm there… while someone blows fire while swinging from a trapeze.