Cocktails for St. Patrick's Day, 2019
Who says 13 is an unlucky number? Not us! We're sharing 13 great cocktails to try out this St. Patrick's Day. When you come up for air, give these festive Reuben Sliders a try, too.
Gin n' Greens
1 ½ oz. The Botanist Gin
1 ½ oz. celery juice
½ oz. lemon juice
1 oz. elderflower liqueur

Add The Botanist Gin, celery juice, lemon juice and elderflower to cocktail shaker. Fill with ice and shake. Next, strain into a Highball glass with ice. Finish with soda water.
Irish Maid
created by Tim Herlihy, National Ambassador for Tullamore D.E.W.
2 parts Tullamore D.E.W. Original
½ part St Germain
¾ part fresh lemon juice
¾ parts simple syrup
5 slices of cucumber
Muddle two Cucumber slices in a shaker. Add remaining ingredients and fill shaker with ice. Shake and strain into a chilled rocks glass filled with ice. Garnish with three additional cucumber slices.
Irish Slang
by Pamela Wiznitzer
1 1/2 oz. Proper No. Twelve Irish Whiskey
1 1/2 oz. Kerrygold Irish Cream Liqueur
3/4 oz. Borghetti Liqueur
1/2 oz. Grand Marnier
Shake all the ingredients together and strain into a highball glass. Garnish with an orange slice before serving.
Irish Hills
2 parts Ruffino Prosecco
1 part vodka
1 sprig fresh rosemary
1 part lemon tonic
½ part lemon juice
½ part simple syrup
sprig of rosemary
In a shaker, add all ingredients except Prosecco. Shake and fine strain into a flute. Top with Prosecco and garnish with a sprig of rosemary.
Teq-Kiwi
1 ½ parts Hornitos Black Barrel Tequila
¾ part fresh lemon juice
½ part simple syrup
fresh kiwi
fresh dill
black sea salt
crushed black pepper
Lightly muddle ½ kiwi and 2 sprigs dill in a shaker. Combine remainder of ingredients in the shaker with ice and shake vigorously. Double strain into a rocks glass over fresh ice. Garnish with kiwi slices and a black sea salt and crushed black pepper rim.
Sexton Pickleback
1 shot The Sexton Single Malt Irish Whiskey
1 shot brine from a jar of pickles (dill or spicy variety work best)
1 pickle
Drink the shot and chase it down with the shot of pickle brine or by eating the pickle itself. Why not both?
Corazon De Melon
3 parts fresh cantaloupe juice
2 parts Havana Club Añejo Blanco rum
1 part simple syrup
1 part maraschino cherry juice
½ part fresh lime juice

optional – dash of orange bitters
For cantaloupe juice:
Blend 2 cups cubed cantaloupe melon in a blender until pureed and smooth. Strain the mixture through a mesh strainer.
For the cocktail:
Combine the rum, cantaloupe juice, syrup, cherry juice, and lime juice in a shaker filled with ice. Shake for 30 seconds then pour into a frosted glass. Garnish with a wedge of lime and a melon ball.
St. James' Flip
1 oz. rum
1/2 oz. sweetened condensed milk
1/2 of a fresh egg
1 1/2 oz. Guinness Foreign Extra Stout or Guinness Draught
grated nutmeg
Combine all wet ingredients in a cocktail shaker and dry shake without ice. Add ice to the shaker and continue to shake until the mixture is smooth and frothy. Strain cocktail into a small goblet and garnish with freshly grated nutmeg.
Lucky Leprechaun
4 oz. Smirnoff Ice Green Apple
4 oz. Smirnoff No. 21 Vodka
4 oz. ginger ale
In a cocktail shaker, add ice, Smirnoff Ice Green Apple and Smirnoff No. 21 and then shake. Strain into a martini glass and top with ginger ale. Enjoy! Serves 4.
The Chaparrita
created by Licha's Cantina, Austin, Tx
1 1/2 oz. Gem&Bolt Mezcal
1 oz. Damiana tea
splash fresh pineapple juice
splash lime bitters
fresh basil top
Damiana Tea Prep:
1 oz. dry Damiana leaf, steep in hot water for 30 minutes, strain. Keeps one week refrigerated.
Laphroaig End O' The Rainbow
3/4 part Laphroaig Select
3/4 part ginger liqueur
3/4 part pineapple juice
3/4 part lemon juice
3 dashes absinthe verte
spring of mint (for garnish)
Combine all ingredients in a cocktail shaker with ice and shake well. Strain into a coupe glass and garnish with a mint sprig.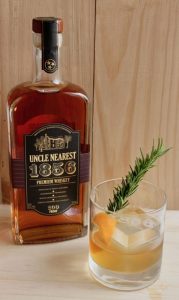 Lucky No. 1856
2 oz. Uncle Nearest 1856 Premium Whiskey
1/4 oz. rosemary honey syrup
4 dashes orange bitters
orange peel & rosemary sprig
large ice cube
Add Uncle Nearest, rosemary honey syrup and orange bitters to a mixing glass (if you don't have a mixing glass you can use a pint glass). Add ice to the mixing glass, 1/2 to 3/4 full of ice. Take a bar spoon and stir 15 times. Pour over a large ice cube in a double Old Fashioned glass. Cut an orange peel and twist to express the oils. Add rosemary sprig.
To make rosemary honey syrup:
Use equal parts honey and hot water stir and cool to room temperature. Add rosemary sprigs and let cool overnight in the refrigerator.
Reuben Sliders
courtesy of spendwithpennies.com
12 dinner rolls
8 oz. corned beef, thinly sliced
8 oz. swiss cheese
1/3 cup thousand island or Russian dressing
1 cup sauerkraut squeezed dry
1/4 cup butter melted
1 tablespoon dijon mustard
1/2 teaspoon garlic powder
1 teaspoon dried minced onion
1/2 teaspoon caraway seeds optional
Preheat oven to 350 degrees.
Whisk together topping ingredients in a small bowl.
Cut the rolls in half separating the top and bottom.
Place the bottoms of the rolls in a 9×13 pan (I line with parchment paper for easy removal).
Spread dressing on rolls. Top with a layer of cheese, sauerkraut, corned beef and another layer of cheese.
Top with the other half of the rolls and gently spoon or brush the butter mixture over top.
Bake about 20-25 minutes or until the cheese has melted and the tops are lightly browned.
Serve warm.