Tasting Report: Bordeaux and Sauternes, 2016 Vintage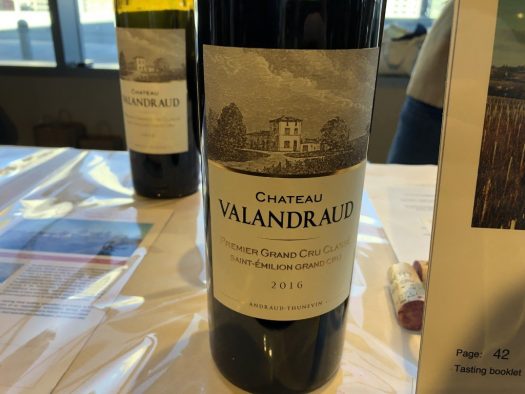 Bordeaux's 2016 releases are arriving on the market, and I recently had the opportunity to take a tour through the wines of the vintage when the winemakers of the region toured the U.S. with their wares. Learning my lesson from the 2015 vintage tasting — wherein I sampled every wine in the room — I pared down my selections to roughly half of what was being poured… still a representative sampling of 2016's wines.
Overall thoughts for the vintage reveal a fairly strong year with some notable bright spots; the region had fairly average weather conditions, particularly around harvest. My top picks for the vintage could be found all over the area, including Château La Louviere's white wine and a trio of reds, each from a different sub-region, including Château Valandraud, Château Pichon Baron, Château Phélan Ségur, a couple of which mark perennial, personal favorites. In Sauternes, I really gravitated to Château Haut-Peyraguey's unusual release.
Complete (yet brief) notes on all wines tasted follow.
2016 Bordeaux Tasting Report
White Wines
2016 Château de Chantegrive Graves Blanc – out of balance. B-
2016 Château Bouscaut Pessac-léognan Blanc – peachy, bold minerals, slightly nutty. B+
2016 Domaine de Chevalier Pessac-léognan Blanc – boldly tropical, light green herbals, some spice. A-
2016 Château de Fieuzal Pessac-léognan Blanc – pretty, some thyme/sage notes, lingering herbs; unusual. A-
2016 Château Latour-Martillac Pessac-léognan Blanc – extra dry, slightly vegetal, unripe. B
2016 Château La Louviere Pessac-léognan Blanc – clean, lemon and pineapple notes; lightly herbal. A
2016 Château Olivier Pessac-léognan Blanc – chewy, some nougat notes. B+
2016 Château Pape Clément Pessac-léognan Blanc – gentle and crips, bold apple notes; tropical hints. A-
2016 Château Smith Haut-Lafitte Pessac-léognan Blanc – sharp and very acidic, quite green, grapefruit heavy. B+
Red Wines
2016 Château La Louviere Pessac-léognan Rouge – bone dry, heavy, wet earth; mushrooms and leather. B
2016 Château Smith Haut-Lafitte Pessac-léognan Rouge – dry, some currant notes; dried cherries; moderated earth. B+

2016 Château Canon-La-Gaffelière Saint-Emilion Grand Cru – a bit green, but wildly intense with graphite and herbal notes. B
2016 Château Dassault Saint-Emilion Grand Cru – heavy duty, lots of licorice and tobacco notes; very intense. B
2016 Clos Fourtet Saint-Émilion Grand Cru – fresh and lightly earthy, herbal on the finish. B+
2016 Château Larcis Ducasse Saint-Emilion Grand Cru – fresh and lovely, quite fruity, red berry and blueberry notes. A-
2016 Château Valandraud Saint-Emilion Grand Cru – gorgeous; plummy, with bold currant notes, spicy and fruity, with a light touch of earth; an easy nominee for best in show. A
2016 Château Clinet Pomerol – a good slug of mushrooms, then ripe fruit; gentle and juicy. B+
2016 Château Rouget Pomerol – quite lively, light chocolate notes; nice body. A-
2016 Château Chasse-Spleen Moulis-en-Médoc – big acidity; leathery, some gravel and tobacco notes on the back end. B+
2016 Château Cantemerle Haut-Médoc – interesting, but a bit green; some unique fruit notes mingle with a pepper note. B
2016 Château La Tour Carnet Haut-Médoc – lush, softer, with chocolate and nutty notes; plenty of tannins. A-
2016 Château La Tour de By Médoc – fairly traditional, cherries and nutty notes; earthy tannins a plenty. B+
2016 Château Brane-Cantenac Margaux – sharp, with lots of acid; bold berry notes. B+
2016 Château Cantenac Brown Margaux – fresh and lightly green, ample fruit. A-
2016 Château Durfort-Vivens Margaux – boldly fruity, some licorice candy; a bit tight today. B+
2016 Château Giscours Margaux – big dark chocolate notes, tea leaf, some wet earth. A-
2016 Château Rauzan-Segla Margaux – high acidity, spicy; plenty of tannin on the back end. B
2016 Château Beychevelle Saint-Julien – fresh and lively, full of fruit; drinking young. A-
2016 Château Léoville Barton Saint-Julien – plenty of body, earthy; plum and casssis are heavy, but the finished product is quite dry. A-
2016 Château Léoville Poyferré Saint-Julien – lovely balance, fresh fruit and light herbs with toasty wood, all coming together with lots of grip. A-
2016 Château d'Armailhac Pauillac – a bit tight; slightly green; some unripe notes. B
2016 Château Lynch-Bages Pauillac – quite pretty, a bit delicate, herbal finish. A-
2016 Château Pichon Baron Pauillac – quite dense, graphite and slate notes, dried fruits; very austere but not at all over-earthed; another top pick. A
2016 Château Phélan Ségur Saint-Estèphe – beautiful, lingering spice and a light vanilla note; fruity; reprise of spice on the back end. A
Sweet Wines
2016 Château Doisy Daëne Barsac – very, very sweet; bold honey, lemon; a bit over the top. B+
2016 Château Haut-Peyraguey Sauternes – delightfully fresh, peaches and honey. A
2016 Château Lafaurie-Peyraguey Sauternes – overwhelming on the body, a bit of white pepper in the mix. A-
2016 Château Suduiraut Sauternes – an earthy undercurrent adds complexity; honey and some spice. A-