Cocktails for Valentine's Day 2019
February 14th deserves fourteen cocktails for you to celebrate Valentine's Day with. Enjoy them — well, not all of them at once — whether or not you celebrate the occasion. A couple of these use infused ingredients so plan ahead accordingly. Others are easy-peasy for those of us who live on the go… and all of them are sure to go well with the strawberry pie recipe we've shared with you at the end of the piece.
The King Cuatro
1 1/2 parts Bacardi Añejo Cuatro
3/4 part fresh lemon juice
1/2 part St. Germaine Elderflower Liqueur
1/4 part honey
2 blackberries
Martini and Rossi Prosecco
Muddle blackberries in a tin, and pour all cocktail ingredients in. Shake and strain into coupe glass. Top with Martini and Rossi Prosecco and garnish with a Blackberry-speared purple orchid. Beautiful!
Match Made in Haven
2 parts RumHaven
2 parts pineapple juice
2 parts ruby red grapefruit juice
slice of pineapple or grapefruit
Add all ingredients into an ice-filled Collins glass, stir to combine and chill. Garnish with a slice of pineapple or grapefruit.
The Rosé Cherry Blossom
created by mixologist Jeremy Oertel
5 oz. Angry Orchard Rosé Cider
1 oz. brandy
3/4 oz. lemon
1/2 oz. simple syrup
1 tsp. cherry preserves
Add all ingredients to a shaker and shake then strain over ice in a pint glass. Top with Angry Orchard Rosé cider.
Truth Prevails
1 1/4 oz. The Sexton Irish Whiskey
1/2 oz. Becherovka
1/2 oz. Strega
2 dashes DeGroff bitters
grapefruit twist, for garnish
Combine ingredients in a mixing glass. Add ice and stir until cold. Strain into a Double Old-Fashioned Glass over fresh ice.
Mezcal Mama
courtesy of The New York Edition
1 1/2 oz. Gem & Bolt Mezcal
1 1/2 oz. jasmine tea

1/2 oz. fresh lime juice
1/2 oz. agave syrup
1/4 oz. Benedictine
3 or 4 raspberries
Shake all ingredients & strain over ice. Then garnish with the raspberries and serve!
Corazon De Melon
3 parts fresh cantaloupe juice
2 parts Havana Club Añejo Blanco rum
1 part simple syrup
1 part maraschino cherry juice
½ part fresh lime juice
dash of orange bitters
For cantaloupe juice: blend 2 cups cubed cantaloupe melon in a blender until pureed and smooth. Strain the mixture through a mesh strainer.
For the cocktail: combine the rum, cantaloupe juice, syrup, cherry juice and lime juice in a shaker filled with ice. Shake for 30 seconds then pour into a frosted glass. Garnish with a wedge of lime and a melon ball.
Spiced Chocolate and Orange Mulled Port
courtesy of drinkingwithchickens.com
1 750 ml bottle of Fonseca Bin No. 27 Port
1 750 ml bottle of dry red wine
2 cups fresh orange juice, strained to remove pulp
1/2 cup Grand Marnier (or other orange liqueur)
1/4 cup powdered Mexican hot chocolate mix (or another bittersweet dark hot chocolate mix)
2 small oranges, halved for mulling
2 small oranges, sliced for garnish
2 cinnamon sticks for mulling
6 cinnamon sticks for garnish
6 cardamom pods
1 nutmeg seed
4 cloves
In a large saucepan, combine port, wine, orange juice, orange liqueur, hot chocolate mix, the 2 halved oranges, 2 cinnamon sticks, cardamom, nutmeg, and cloves. Stir thoroughly to combine and dissolve chocolate, then bring mixture to a boil. Lower heat and simmer gently fo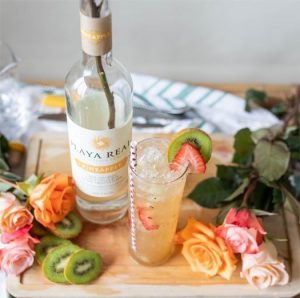 r 30 minutes. When you are ready to serve, spoon liquids into your mug or glass, and garnish with a fresh orange slice and cinnamon stick. Makes approximately 6 servings.
Kiwi Kiss
1 1/2 oz. Playa Real Pineapple Tequila
¾ oz. lime juice
¾ oz. simple syrup
sliced strawberries and kiwi
Muddle Strawberries and Kiwis in shaker. Next, add cocktail ingredients to shaker and shake. Pour ingredients into Collins glass. Finish with ice and your favorite sparkling water.
Little Pink Martini
2 oz. Svedka Rosé
1 oz. Rosé wine
1/2 oz. peach schnapps
2 dashes orange bitters
Add all ingredients to a stirring vessel and stir until cold. Pour into a chilled martini glass. Garnish with a pink rose petal.
Bee Mine
crafted by Una Green Goldman, National Brand Ambassador, Aberfeldy
2 oz. Aberfeldy 12 Year Old infused with cacao nibs
1 shot espresso
½ oz. salted wildflower honey syrup
Infuse the Aberfeldy 12 with cacao nibs overnight. After 24 hours, strain the liquid. To make the honey syrup, mix 2 parts honey to 1 part water then add two large pinches of sea salt to the syrup. (We recommend heating the mixture on medium heat to facilitate the ingredients mixing; cool before using.) Once everything is ready, combine all ingredients in a cocktail shaker. Shake long and hard, and finely strain. Serve the cocktail in a coupe glass.
Tam O'Shanter
by NYC mixologist Andrey Kalinin
1 1/2 parts Laphroaig Select Scotch Whisky
1/2 part Drambuie Liqueur
1 part Bordeaux red wine
3 dashes orange bitters
orange peel (for garnish)
Add all ingredients together in a mixing glass and stir. Strain into a chilled coupe or martini glass (served up). Garnish with a flamed orange twist.
The Sandman's Serenade
created by Erik Andersson, Hendrick's Gin Ambassador
1 ½ parts Hendrick's Orbium Gin
¼ part maraschino liqueur
½ part yellow chartreuse
½ part honey syrup
¾ part lime juice
1 bar spoon white balsamic vinegar
1 dash rose water
Shake and fine strain into a coupe glass. Garnish with dried rose petals and a cucumber vine if you are creative.
Cinnamon Toast Martini
1 oz. Jack Daniel's Tennessee Fire
1 1/2 oz. RumChata
whipped cream (garnish)
cinnamon (garnish)
Swirl glass with chocolate syrup. Add ingredients to shaker, shake with ice and strain into glass. Top with whipped cream and cinnamon sprinkle.
Oaxacan Beet Negroni
1 oz. beet-infused Mezcal El Silencio Espadin
1 oz. Carpano Antica Formula Vermouth
1 oz. Campari
Stir with ice and strain and served in a rocks glass with an orange peel.
To make beet-infused El Silencio Espadin:
9 beets (roughly chopped)
1 bottle El Silencio Espadin (750 ml)
Combine ingredients and let sit for 48 hours. Fine strain and bottle.
Aunt Lorraine's Strawberry Pie Recipe
Pie Crust
1 cup of flour
½ cup of butter
¼ cup of confection sugar
Mix the above ingredients together and press out into a pie dish. Bake at 350 degrees for 15 minutes. Set aside while preparing the filling.
Pie Filling
6 cups of fresh Strawberries, quartered lengthwise, divided in half
½ to 1 cup sugar
pinch of salt
3 Tbsp. cornstarch
1 Tbsp. lemon juice (alternatively substitute with Pinot Noir wine)
Begin with the first 3 cups of sliced strawberries and place into pie crust, gently spreading around bottom of pie.
To prepare the remaining pie filling, mash the remaining 2 cups of strawberries. In a saucepan combine the mashed strawberries with ½ to 1 cup of sugar (depending on the sweetness of strawberries), 3 Tbsp. of cornstarch and 1 Tbsp. of lemon juice or wine. Over medium heat simmer gently, stirring continuously until the berries cook and filling slightly thickens. Taste filling for desired sweetness and adjust with sugar if needed. Remove from heat and pour into pie crust covering the strawberries already arranged in the crust. Gently spread the filling into any gaps and smooth the top of the pie.
Chill the pie 1-2 hours in the refrigerator prior to serving. Best served with fresh whipped cream.