Tasting Report: Bourbon & Beyond 2018
Tasting Report: Bourbon & Beyond 2018
So apparently biblical amounts of rain and an outdoor world-class bourbon festival just don't mix. You may have heard that the much anticipated, weekend whiskey and music extravaganza that should have been Bourbon & Beyond last October didn't even make it 24 hours before the powers that be in Louisville deemed Champions Park unsafe to walk in, much less drink in. It was a tragedy on multiple fronts. I met folks who had flown there from Australia. Australia. That's as far as you can possibly fly before you start flying home. Robert Plant and Sting never even touched the stage. And worst of all was the fact that so much bourbon went unconsumed! I'm getting teary just thinking about it. Thankfully, I managed to enjoy quite a few pours before taking my log flume ride back to the parking lot. Notes on everything tasted are below.
Kentucky Peerless Rye – I started the day well before lunch with a stop at The Big Bourbon Bar, a massive tent that had dozens of whiskeys on offer, mostly from the bigger producers but a few smaller operations like Kentucky Peerless, which makes a remarkably well-rounded and flavorful, if overpriced, young rye.B+
Rabbit Hole Rye Whiskey – Rabbit Hole was another smaller distiller sharing shelf space with the big boys at the Big Bourbon Bar. Their rye was full of rich, dessert notes and massive complexity for a whiskey so young. At half the price of Peerless, it's not hard to see who wins that race. A-
Jack Daniel's Tennessee Straight Rye – The Brown-Forman tent was even more impressive than The Big Bourbon Bar. I kid you not, they were laser-etching people's names on Jack Daniel's barrel heads while they waited in line for whiskey. I tried a pour of the JD rye for the first time, and it came across as pretty tame with minimal traditional rye spice and too much earthy mint. B
Cooper's Craft – This was another Brown-Forman product I'd never encountered, and despite the fact that's it's clearly intended as an entry-level pour, I found myself enjoying it. There's not a huge amount of flavor, but what is there is nicely balanced and probably perfect for mixing. B+
Old Forester 86 Proof – I'm such a fan of the 100 proof Old Forester Signature, I decided that I needed to try the standard Old Forester offering, so I made it my last pour (in that particular tent). I expected to notice a world of difference in this one, but it's really only a little restrained on the flavor front and a touch woodier than the 100 proof. A-
WhistlePig Old World – The WhistlePig tent was conveniently near the main stage, so on my way to check out an early performance I enjoyed a pour of the wine cask-finished Old World and chatted a little with Dave Pickerell (not knowing it would be my last opportunity to do so). There are more and more wine-finished ryes creeping into the market, but this one (released in 2015) remains hard to beat, with a great balance of rye spice and fruit. A-
One of the really unique aspects of Bourbon & Beyond were the workshops where some observers were able to actually drink what was being discussed. I was able to attend a few of these before the tent flooded (kidding, sort of). The Art of Mingling and Blending workshop brought John Little from Smooth Ambler and Joe Beatrice of Barrell Craft Spirits on the stage to discuss perfecting the blend, while the Rare Whiskey workshop brought together a panel to discuss the quality and rarity of private single barrel whiskeys.
Smooth Ambler Contradiction (2018) – Contradiction, Smooth Ambler Distillery's blend of sourced and house-made bourbons, received a proof reduction in 2018, and this was my first time trying the latest release. I enjoyed the old 100 proofer, but the new 92 proof version seemed a little flat and one-dimensional. B
Barrell Bourbon Batch 016 – The Barrell bourbon offering was an entirely different animal than Smooth Ambler's. Batch 016, a blend of 9-15 year old whiskeys from Kentucky, Tennessee and Indiana, was oily, rich, and fruity with a distinct ripe peach note. A-
Willett Wheated Bourbon 5 Years Old – Chosen by bourbon curator Fred Minnick and Willet Master Distiller Drew Kulsveen just for Bourbon and Beyond, this young wheater was all kinds of funky and fruity with a rich caramel sweetness and unique juicy fruit quality, which I've detected before in some of Willett's other house-distilled offerings. Unique and delicious. A
Old Weller Antique 107 (Silver Dollar) – This bottle of OWA 107 was chosen by one of the panelists, Larry Rice, exclusively for his famous bourbon bar, The Silver Dollar. I'm a fan of Weller Antique picks, and this was no exception. A soft and sweet wheated bourbon with plenty of classic flavor. A-
Maker's Mark Private Selection – With a lot of different possible flavor combinations, Maker's Private Selections can be all over the place. This one clocked in at a respectable 110.5 proof and showed big notes of dark mocha (a flavor that seems common to many of the picks I've tried). Spicy with a slightly drying finish. B+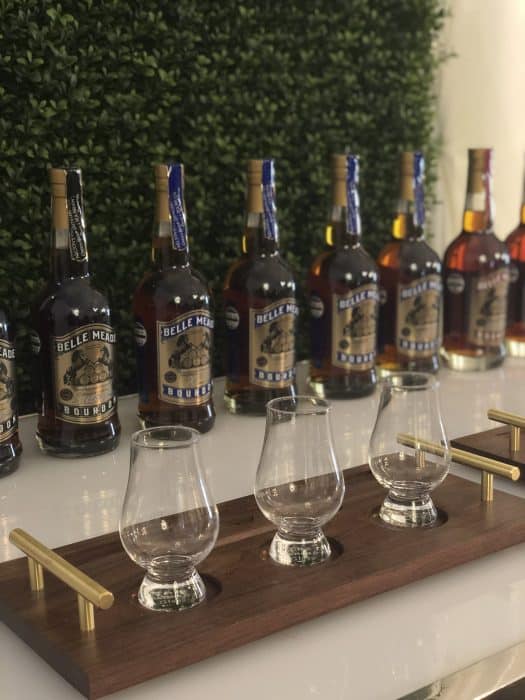 Before the rain really set in, I was kindly invited to a special tent celebrating the opening of Bardstown Bourbon Company's on-site restaurant and bar, Bottled & Bond Kitchen and Bar. They were showing off some of the brands they've begun contract distilling for the likes of Nelson's Green Brier Distillery, as well as a few heavy hitters from their impressive rare and vintage whiskey library.
Belle Meade Reserve Bourbon – This is the newest offering in the Belle Meade line. The bourbon is a blend of some of their oldest sourced stocks (7-11 years), and it was one of the highlights of the event. Classic, chewy bourbon notes and mountains of baking spice all in perfect proportion with a crazy long finish. (Full review coming soon.) A
Bardstown Bourbon Co. and Copper & Kings Collabor&tion Finished in Muscat Mistelle Barrels – Also in the tent were a few offerings from Bardstown Bourbon Co.'s partnership with Copper & Kings, Collabor&tion. We reviewed the first release of their bourbon finished in muscat mistelle barrels back in 2017 and found it to be pretty weird and overly woody, but after another year or so in the barrel it's showing more promise with better balance and bigger, sweeter fruit notes. B
Bardstown Bourbon Co. and Copper & Kings Collabor&tion Finished in Apple Brandy Barrels – A new addition to the Collabor&tion line, this one was unique and really flavorful with bright, juicy caramel apple notes that nicely complement the wood-heavy base bourbon. My favorite of the line, by far. A-
Booker's Rye – This extremely limited Booker's release is now the stuff of legend, commanding big sums that make its already not insubstantial starting price look like a steal by comparison. Is it worth that hype? Yes. This was simply an incredible pour, complex and remarkably gentle at such a high proof. Another highlight. A
Henry McKenna 10 Years Old Bottled-in-Bond (1998) – A "vintage" pour of old label McKenna 10 Year followed later in the evening. While a bourbon from 1998 isn't exactly dusty, this was still pre-fire Heaven Hill juice with that great funky nose and rich caramel palate. Totally unlike the current release, but just as tasty, if not more so. A-
Just before the rain gods shut the whole thing down, I ducked into the Mini-Bar, a collection of bourbons from smaller Kentucky craft distilleries that were selected by the festival's bourbon curator and well-known spirits writer, Fred Minnick.
Wadelyn Ranch Bourbon – Wadelyn Ranch, located in central Kentucky, is about as grain-to-glass as you get, harvesting their own grain from the family farm on site. This young bourbon was peppery and not surprisingly cereal-forward but showed nice balance with some great baking spice notes. B+
Wilderness Trail Single Barrel Bourbon Bottled-in-Bond — I first tasted Wilderness Trail at Premier Drams in DC earlier in the year. Even after plenty of other high quality pours throughout the day, this one was memorable. For a younger bourbon (somewhere in the neighborhood of 5 years old) it's incredibly complex and rich. I picked up a distinct toasted pecan note on this one and a little more spice than I remembered. Great stuff. A
Here's hoping Mother Nature starts appreciating her bourbon more before Bourbon & Beyond returns this year!