Review: Bell's Brewery Bourbon Barrel Aged Expedition Stout (2018)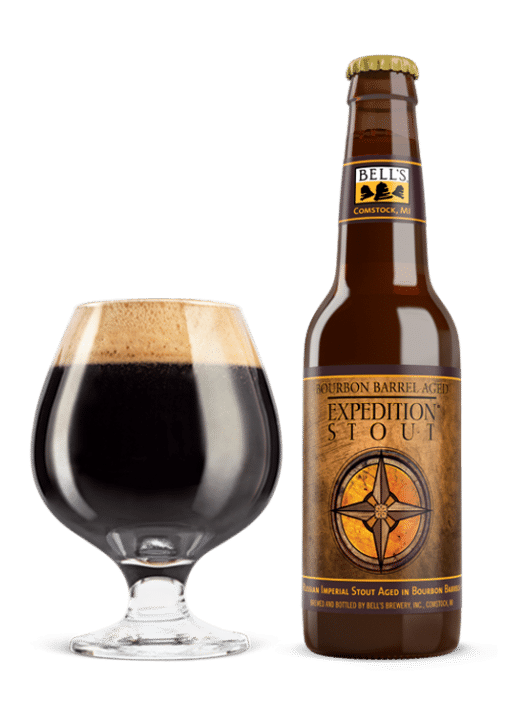 Michigan-based Bell's Brewery claims that their Expedition Stout is one of the earliest examples of a Russian Imperial Stout in the United States. That's an impressive feather in their cap and speaks to Bell's role as a craft beer pioneer. Being the first at something is great until everyone else comes along and tries to make it better, so it's no surprise that Bell's has continued to innovate with the introduction of a bourbon barrel-aged version of its Expedition Stout which spends a healthy 12 months inside the barrel (past releases have used Four Roses barrels, but it's unclear what was used in 2018).
The beer pours a velvety, dark roasted coffee color with a razor thin, mocha-hued head. The nose shows a slightly boozy quality, but there are plenty of roasted notes to balance it, so it's not nearly what you get with some other barrel-aged stouts or even some straight Russian Imperials, for that matter. There's a vanilla and oak-tinged bourbon barrel note underneath mountains of almost bitter dark chocolate shavings, a dusting of nutmeg, and dark berry jams. It's rich and weighty, but not gummy nor overly sweet on the palate. This style of stout is typically drier, but there's a nice creaminess here, and despite a respectable attempt to turn sweet from the outset, everything stays pretty well in balance. The palate is a bit of roller coaster with big malt notes, unsweetened baking chocolate, roasted coffee, blueberry, and well-done chocolate chip cookies. Cinnamon and clove arrive on the lengthy finish with a subtle sour berry note, more vanilla, and a touch of smoke. It's very good, as is, but I imagine a little cellar aging might round out some of the sharper, roasted notes for an even more enjoyable experience.
13.4% abv.
A- / $24 (per 4-pack) / bellsbeer.com
About Post Author