Book Review: Ten Grapes to Know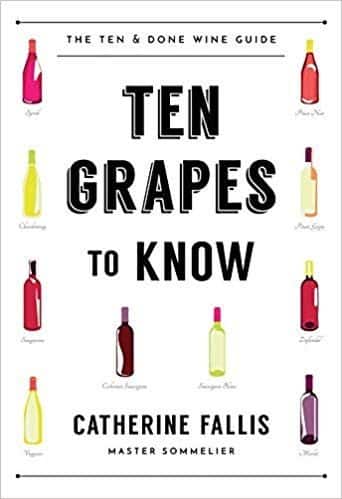 Catherine Fallis, Master Sommelier, is a respected colleague and a fixture at San Francisco wine events whom I encounter with regularity. That makes it somewhat difficult to write about her new book, Ten Grapes to Know: The Ten & Done Wine Guide, but I'll endeavor to be as impartial as possible here.
As the name suggests, Ten Grapes to Know makes no claims to be an in-depth guide to wine for the wannabe sommelier/collector set. In fact, it's designed for absolute beginners, taking them through the essence of ten grapes — five white, five red — and the wines they are used to create. And I really do mean absolute beginners: Fallis assumes you know nothing at all about wine here, recommending ultra-cheap bottles to help familiarize you with wine styles, and even pairing them with Lean Cuisine frozen dinners.
Of course, it's tough to distill the wine world into just 10 grapes, and Fallis herself told me that she regrets that tempranillo didn't make the cut (though viognier oddly did). I suppose that Eleven Grapes to Know doesn't have the same shelf appeal.
Fallis clearly knows what she's talking about, and her plainspoken writing should make it easy for a novice to achieve a basic level of understanding about the wine world. Some of the asides, which document Fallis's trips to the world's great vineyards (or working the harvest at Chateau Lynch Bages) or document in detail the growing regions of New Zealand, may be a bit much for the newcomer, but perhaps they're intended to be aspirational. Something to ponder over that Lean Cuisine steak and cheese panini…
A- / $16 /  [BUY IT NOW FROM AMAZON]