Review: Merrys Irish Cream Liqueuer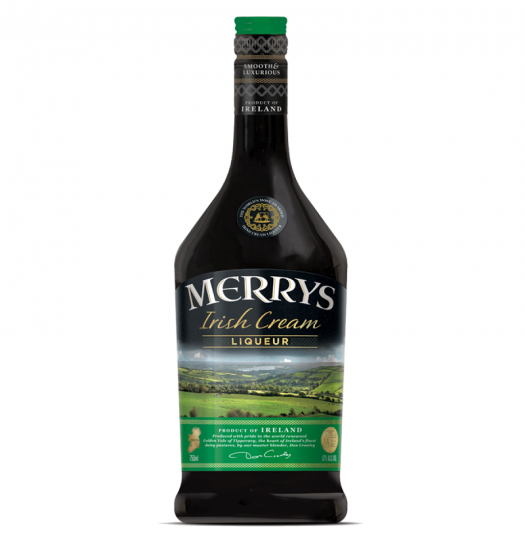 The Irish cream category continues to explode almost as rapidly as the irish whiskey market, the latest being this expression from a company called Na Cuana, based in Meath, Ireland.
Merrys (no apostrophe formally, but you'll see it as Merry's also), claims to be "the world's most awarded product in its category." It is crafted in the Golden Vale of County Tipperary, in the heart of Ireland's dairy country, by Master Blender Don Crowley. Ingredients include local cream and aged Irish whiskey. (We'll be reviewing Na Cuana's whiskey in the next few days, so stay tuned.) Various flavored versions, which we didn't taste, are also available in the Merrys line.
There's a lot of sweetness in this Irish cream: butterscotch, brown sugar, and — especially — buttered popcorn all come to the fore on the expressive, sugar-heavy nose. That carries through to the palate, which offers super-sweetened notes of caramel, cotton candy, and some coconut, along with that signature butterscotch character. Hints of popcorn make a reprise on the finish, with its lingering, lasting sweetness.
For barely more than 10 bucks a bottle, Merrys is an extremely affordable entry into Irish cream. And while it may not be my absolute favorite liqueur in the category, it's still a worthwhile after-dinner sipper. But maybe skip dessert if you're tucking into a glass of this to help avoid a sugar coma.
34 proof.
B / $13 / merrys.ie