Recipe: Skyy Vodka Valentine's Day Cocktails 2013
With Valentine's Day around the corner we felt it only appropriate to offer up a few suggestions for cocktails that might tickle the fancy of someone you love, or to enjoy by yourself. These recipes come to us courtesy of the folks at Skyy Vodka, which just launched a new strawberry vodka (review coming soon).
Wild Strawberry Seduction
2 oz. Skyy Infusions Wild Strawberry
1 oz. fresh lemon juice
1 oz. apple juice
½ oz. honey
2 medium basil leaves
2 medium strawberries
Muddle basil, strawberries and lemon juice. Add remaining ingredients. Shake and double strain in to coupe glass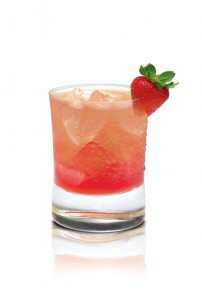 Strawberry Sunrise
2 oz. Skyy Infusions Wild Strawberry
1 oz. orange juice
½ oz. grapefruit Juice
½ oz. lime juice
½ oz. simple syrup
¼ oz. grenadine
Shake all ingredients except grenadine. Pour liquid over ice in a rocks glass. Drizzle in grenadine at the end.
About Post Author