Review: Camus Ile de Re Cognacs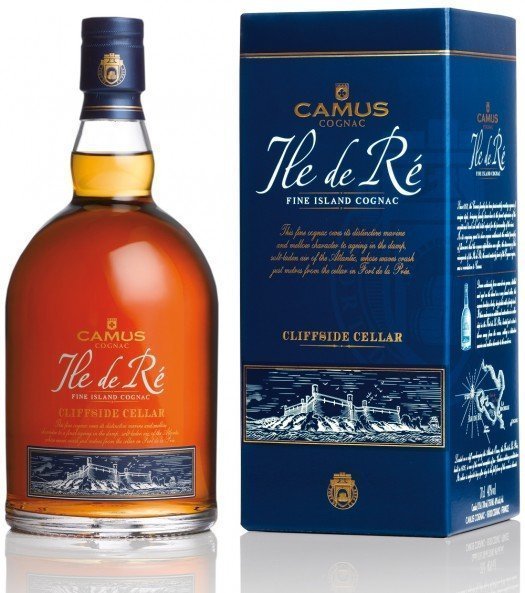 Most (myself included) think of Cognac hailing from a small region in France just north of Bordeaux. But did you know that you can make Cognac (legally) on an island off the coast of France? To be fair, Ile de Re isn't far offshore — it's connected to the mainland via a bridge — but it's unique enough to merit more than a little curiosity.
Camus is the first company to bring a Cognac produced from grapes grown on this little island to market, with three Ile de Re Cognac expressions launching now. All are classic Cognac expressions, but you'll find them infused with a little unique island spirit, giving them a slightly salty spin, much in the way that Islay malt whiskys can only be from one place. Thoughts follow.
None of these expressions include age statements. All are bottled at 80 proof.
Camus Ile de Re Fine Island Cognac – A young and fresh brandy, this spirit is easygoing with a modest fruit core, but with surprisingly little of the funky burn that you get with most "affordable" Cognacs. Very light citrus and persimmon notes on the nose, and these follow through to the palate. A briny finish offers some savory balance. There's a bit of heat in the otherwise muted body, but not enough to make you race for the water pitcher. While it isn't going to wow you, on the whole it's a surprisingly drinkable Cognac, particularly at this price level. B+ / $49 [BUY IT NOW FROM DRIZLY]
Camus Ile de Re Double Matured Cognac – Aged in two stages, first in a high-humidity cellar, then in "toasted barrels." Similar in tone to the Fine Island version, but with a distinct orange character that laces the finish. Less heat here than the Fine Island, too, perhaps more an indication of age than the double barreling conceit, but probably worth the price upgrade. A- / $69 [BUY IT NOW FROM DRIZLY]
Camus Ile de Re Cliffside Cellar Cognac – Aged in part in a special cellar said to be 10 meters away from the Atlantic Ocean, here the orange character is up front rather than hidden away in the finish. Well-rounded, with some saltiness in the finish, which comes together with more of a dessert-like, salted caramel character. A- / $99 [BUY IT NOW FROM DRIZLY]
About Post Author