Review: Bruichladdich Classic Laddie, Organic, Port Charlotte An Turas Mor, and Octomore 3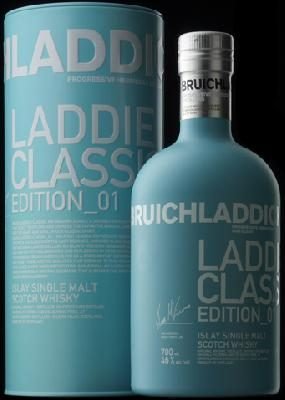 Islay's Bruichladdich — "the progressive Hebridean distillers" — is in the midst of an upheaval. Long known for releasing dozens of whiskys each year, the distillery has suffered from a bit of an identity crisis. Some Bruichladdich whiskys could be light and filled with fruit. Some are overwhelming peat bombs. Where is the distillery's soul?
Finally, Bruichladdich has had a crisis of conscience and is refocusing on fewer brands, splitting them among natural divisions. Going forward, the Bruichladdich brand will focus on unpeated whiskys. The Port Charlotte and Octomore brands will feature peated stuff. Overall, the number of bottlings (or SKUs) will greatly decrease. By my count we'll see roughly six new bottlings (instead of 16) from Bruichladdich this season.
We tasted the four major releases from the company coming down the pipeline.
Bruichladdich Classic Laddie Edition 01 – This "minimally peated" dram will be part of the "core" offerings from Bruichladdich going forward, a vatting of old (18-20 year old) whiskeys and younger (5-7 year old) stuff, aged fully in ex-Bourbon casks. A really solid and, indeed, classic whisky. Mild honey and nougat on the nose, masking what turns into a surprisingly big body, with burnt sugar, orange, and toffee. Wood kicks in on the finish. Nice balance of sweetness with the savory finish, and the lush creaminess gives it a certain austerity you don't often find in mid-level whiskys. While not cheap, it's still a great candidate for an "everyday dram." 92 proof. A- / $69

Bruichladdich The Organic – This is a vatting of three prior Bruichladdich Organic releases: Organic 2003, 2004, and 2005. Now just called "The Organic," it's still a collection of whiskys made from organic barley. I don't like the nose on this one. It's funky, with a kind of mushroomy character to it. The body is an improvement, hefty straw and grain notes — this is, after all, designed to showcase what barley tastes like — but its youth gets in the way. A curious novelty, but I'm not loving it at this price. 92 proof. B- / $78 
Bruichladdich Port Charlotte An Turas Mor – Another vatting, this is a blend of Port Charlotte PC6, PC7, and PC8. Heavily peated, the nose is something like sweet barbeque smoke, fruity and a bit like a sugary bacon. The body is a bit on the thin side, and the finish isn't entirely balanced. A whisky this peaty needs more body to back it up. 92 proof. B / $72
Bruichladdich Octomore 3 – Now officially the most heavily peated whisky on earth: A stunning 152ppm of phenol. (Where will it end? Who knows.) Aged 5 years. Those of you who've experienced these ultra-peated whiskys know the score, but I found this third round of Octomore more engaging and, surprisingly, easier going than earlier versions. Yes, the smoke and heat are devastating, but they are tempered with something almost candy-like. This isn't a Scotch for everyone, but it's easily worth a sample if you're a smoldering type. 18,000 bottles made. 118 proof. A- / $195