Mystery Review: Taiwanese Golden Pure Malt Whisky
Mystery Review: Taiwanese Golden Pure Malt Whisky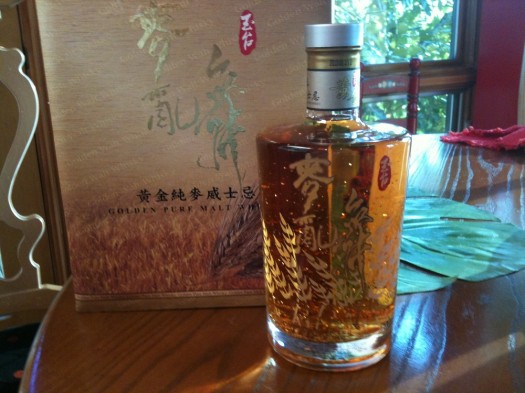 Malt whisky isn't just made in Scotland. It hails now from locales around the world, with Asia turning in some especially credible single malts (see Yamazaki, et al.).
And then there are bottles like this, a gift to my parents from travelers returning from Taiwan.
I am not sure what to call it since the name does not appear in English. The best I can suggest is that it is "Golden Pure Malt Whisky," the only Latin script on the bottle and packaging. Of course, it is also called "Golend Pure Malt Whisky" in an included card (which includes the unhelpful URL below), and, even more cryptically, "Golden Walt Whisky" watermarked on the box it came in.
Hmmm.
What it is is basically fairly rudimentary Taiwanese malt whisky… with gold flakes in it. If Dewar's and Goldschlager had a baby, this would be it. I'm not sure if this is single malt or a blend (pure malt generally refers to vatted whiskies, but there's no telling what it means in Taiwan), and the nose is little help. Innocuous and unassuming, the aroma reveals little. The palate only marginally more, revealing a grain-heavy, throat-burning whisky with the barest of herbal flavors and a slight sweetness on the finish. Nothing special, but pretty harmless in the end — if, to say the least, quite the conversation piece. And all with the joy of knowing I'll be excreting indigestible gold flakes for the foreseeable future!
80 proof.
Any additional information on this spirit appreciated!
B- / $NA
About Post Author